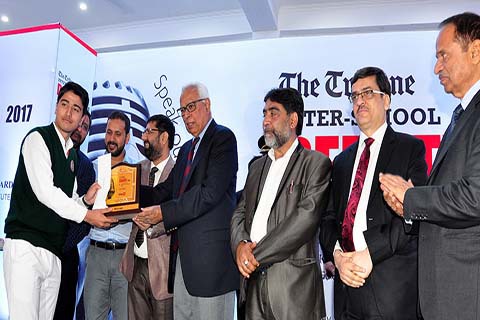 DPS wins inter-school debate
---
Delhi Public School Srinagar on Thursday September 28 won an inter-school debate competition which was held in Kashmir Harvard Educational Institution. The topic for debate was Googlelisation: thumbs up or thumbs down. The event was organized by a national daily, The Tribune in collaboration with Chitkara University.
30 students from 15 schools of valley participated in the debate. The participants put forward their arguments for and against the process of googlelisation. From DPS Srinagar, Rutba Aalee of class 12 spoke in favor of the process. In her speech, she talked about the knowledge economy which is possible because of the access of knowledge and knowledge itself is accessible through google. While Babar Bilal Malik of class 11 presented the contrary views. He spoke about how the technology has crippled the humans and their intellect and intelligence.
Babar Bilal Malik secured the first prize while Rubta Aalee received an honorary mention by the jury.