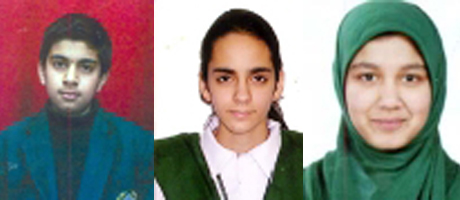 Laurels for our school
---
Three students from our school namely, Afrasayab Khan 95.6%, Haziqa Bashir 95.20% and Hafsa Shah have received letters of appreciation from Mrs. Simriti Zubin Irani, Union Minister of Human Resource and Development dated 2nd June 2014 after the result declaration of All India Senior Secondary School Examination (CBSE) XII Board Examination for ranking among the first ten students in the XII Board Examination.
She in her letter states, "Your Success is a result of your dedicated hard work and commitment .You have made your parents, your school, and our country proud".
The Minister wished them success and wants them to achieve the goals that they have set for themselves in life.
The school would like to place on record this landmark achievement and we wish them success in their future endeavours.
Media Coverage