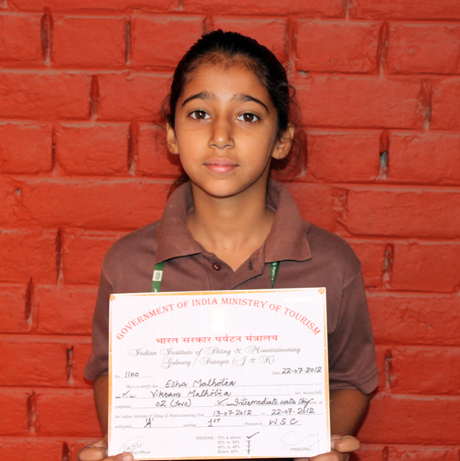 Lifetime Achievements of a young DIPSITE
---
Esha Malhotra of class V-A joined DPS Srinagar in 2007. She participated in the 14th Inter-DPS Childrens Art Exhibition in 2008 and 2009. She also took part in the junior level workshop by Shiamak Davars Institute for the Performing Arts in February 2009. Esha bagged the 2nd position in the Invt. National Taekwondo Championship 2010 and also represented J&K (DPS) in the 22-26kg category.
She secured the 1st position in Slalom after attending a Basic Snow Skiing Course at the Indian Institute of Skiing and Mountaineering(IISM) in 2011. Our talented young student also attended a Basic Water Skiing Course at the same institute and came 1st in a Water Skiing Competition.
Esha attended a Two Night/Three Day Trekking Course organized by the IISM in 2012, as well as the Intermediate Snow Skiing Course and the Intermediate Water Skiing Course and bagged the third position in technique in Snow Skiing, and first in the Water Skiing Competition.
She also secured the 1st position in a Back-to-Back race, as well as 2nd position in the 4×50 metre relay in 2011.
Esha displayed her creative side when in 2012, she secured the 2nd position in an Essay Writing Competition, and was also awarded a Gold Medal in a Letter Writing Competition held by the Department Of Post, India