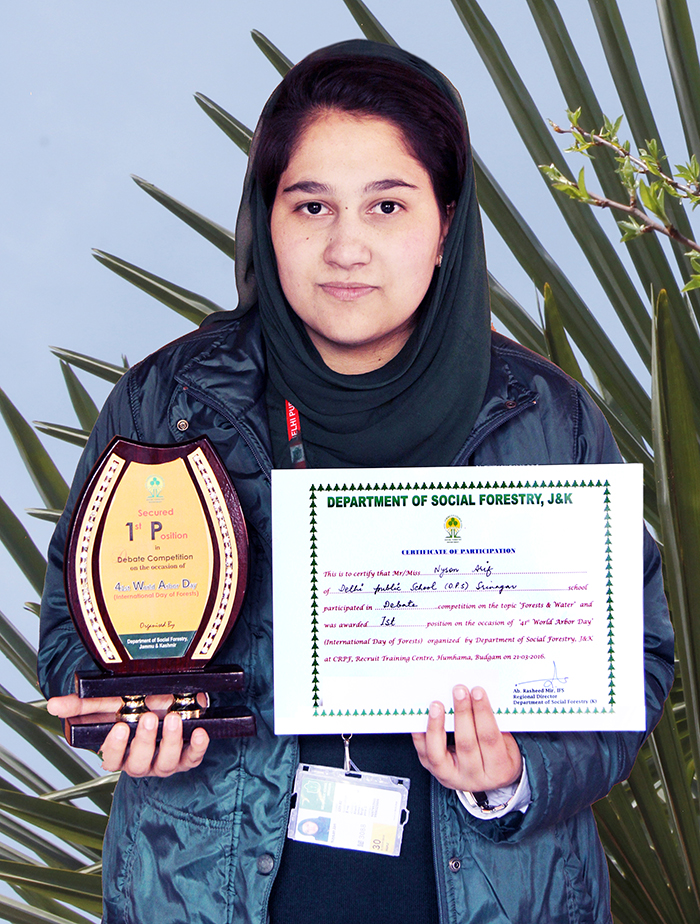 Nysan Jan of our school bagged first position in World Arbor Day debate.
---
The department of social Forestry Jammu and Kashmir organised a debate on World Arbor Day on 21st March, 2016 at CRPF recruits Training Centre, Humhama Srinagar.
Students from various reputed schools of the valley participated in the event. Nysan Jan (Class – XII) of our school bagged the first position in the said event. She spoke on the importance of Forest and Water for the present and future generations. She quoted tomorrow's world with highest academic degrees and non availability of oxygen and water will result in extinction of our existence. She emphasised on forest conservation and talked about the holistic view of Earth –place the Earth's welfare first and talked about the need of sustainable development and ended by saying that we study hard so that we could get a good ground breaking degree. We secure a job with a degree certificate and earn $10,000 per month. We marry and have children and then we send them to get better degree, say robotics or space engineering. What next? Sure that they will have enough O2 to breathe and water to drink and fire to cook? Guys it's high time to bring out a holistic view we are the trustees not inheritors.
The valedictory function was presided by various dignitaries of the valley Mr. Khursheed Ahmad Ganai (Advisor to Hon'ble Governor J&K) distributed the prizes among the winners.