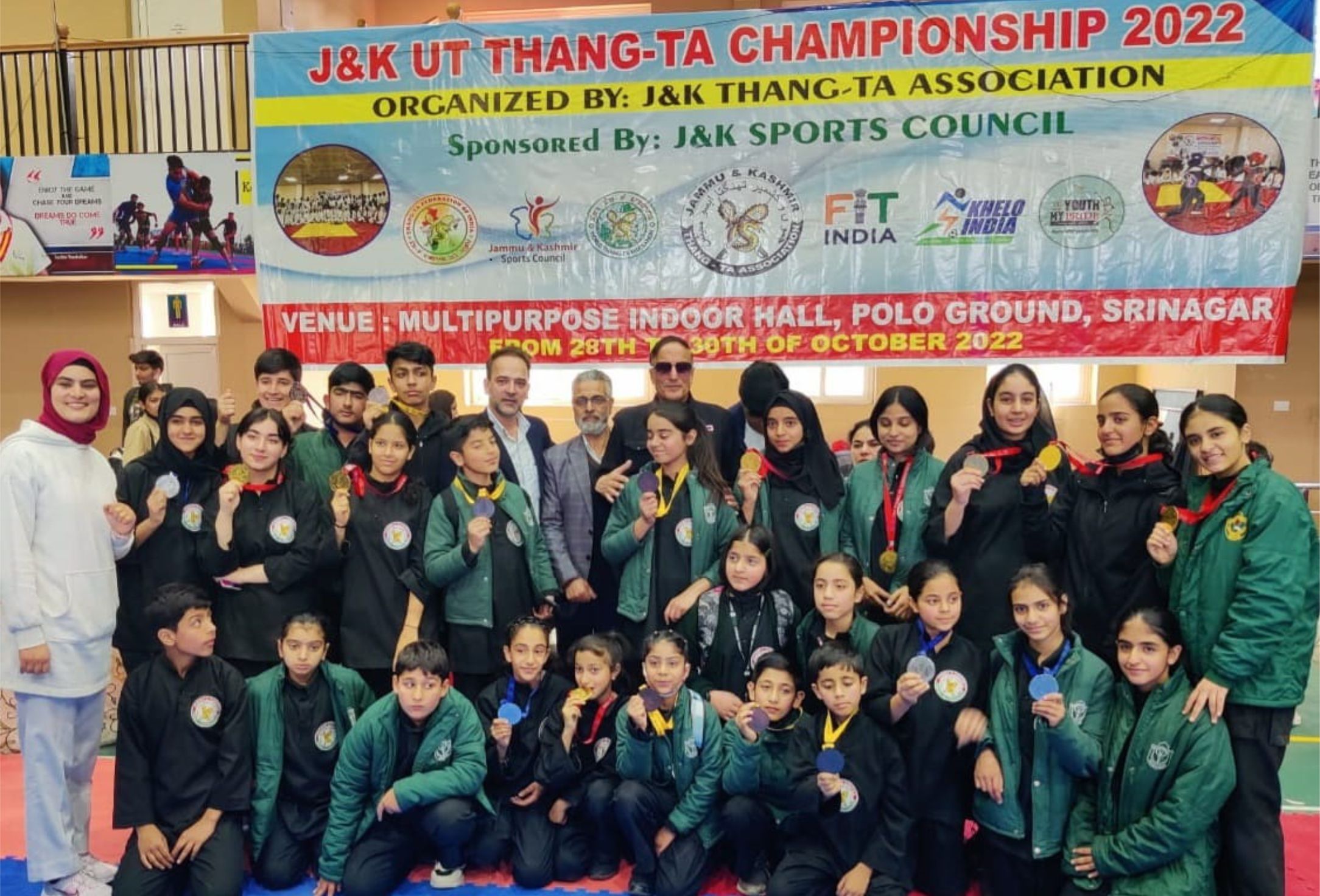 The school Thang Ta team bags 25 medals in the UT Level Thang Ta C'ship
---
The school Thang Ta team brought laurels by securing 25 medals in the J&K UT LEVEL THANG TA CHAMPIONSHIP 2022, which was organized by J&K Thang Ta Association, held between 28th and 30th October. The School team won 9 gold, 6 silver and 10 bronze out of 38 participants.
More than 630 players from UT of J&K participated in the championship that took place at Multipurpose Indoor Sports hall Srinagar. As many as 38 players from the school participated from the school. SAIRA ZAHOOR, the senior category player from class 12th won the Title "CHAMPIONS OF CHAMPION " that is played between senior category gold medalists.
Expressing her delight on the remarkable performance of the students, Principal Ms. Shafaq Afshan said "The wins again highlight the quality of our training program. At DPS, we ensure that the students are identified for potential, and groomed to shine in the field."
Chairman Vijay Dhar also expressed his delight at the rich haul, and noted it as a vindication of the school's attempts to establish a sporting culture to offset the gloom of circumstances.
MEDALISTS OF J&K UT LEVEL THANG TA CHAMPIONSHIP 2022
| | | | | |
| --- | --- | --- | --- | --- |
| S. No | Name | Class/Sec | SID | Medals |
| 01. | SAIRA ZAHOR | 12thC2 | 3720 | Gold |
| 02. | AYAT RAFIQ | 11th B2 | 4271 | Gold |
| 03. | AUNGBEEN NAZIR | 9th E | 5111 | Gold |
| 04. | AYLA PARVAIZ | 9th E | 5131 | Gold |
| 05. | AAMINAH IRFAN | 9th E | 5048 | Gold |
| 06. | AYDANAZIR | 8th D | 5522 | Gold |
| 07. | SUJHAT WANI | 8th E | 5542 | Gold |
| 08. | AAYAT KIRMANI | 7th H | 5870 | Gold |
| 09. | ZYNAH SARTAJ | 4th H | 7224 | Gold |
| 10. | AREEBA SHAH | 9th d | 6892 | Silver |
| 11. | JALEEL MEHDI MIR | 8th E | 5394 | Silver |
| 12. | ANOOSH BASHARAT | 8th D | 5300 | Silver |
| 13. | ARBAIN ASHRAF | 6th E | 6042 | Silver |
| 14. | MUNAZAAIRA | 6th E | 6063 | Silver |
| 15. | ALEENA MALIK | 4TH H | 7135 | Silver |
| 16. | FATIMA HILAL | 9th C | 5028 | Bronze |
| 17. | AYESHA AABID | 9th c | 4996 | Bronze |
| 18. | MOHAMMAD IBRAHIM KIRMANI | 7th H | 5917 | Bronze |
| 19. | ARHAN ASHRAF | 3rd C | 7430 | Bronze |
| 20. | ZYNAB MANZOOR | 3rd G | 7619 | Bronze |
| 21. | FAJAR BHAT | 5th C | 7014 | Bronze |
| 22. | BAZILA AYOUB | 5th C | 6568 | Bronze |
| 23. | MOHAMMAD NAWAB | 5th G | 6760 | Bronze |
| 24. | MOHAMMAD IBRAHIM KIRMANI | 7th H | 5917 | Bronze |
| 25. | MOHAMMAD TOIB | 9th G | 5178 | Bronze |