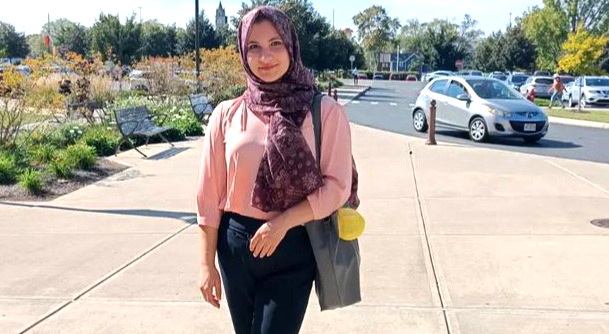 Hazika Bilal / 2019
---
A talented and diligent student, Hazika has always managed to stay on top of her game. From the very beginning, she has been laser focused and goal oriented. Hazika graduated from DPS Srinagar with a number of scholarships and awards. She qualified for the Kennedy-Lugar Youth Exchange and Study (KL-YES) scholarship and studied at Lake High School, Millbury, Ohio as an exchange student, wherein she received an offer from Bowling Green State University, Ohio to pursue a BS in Economics there on a scholarship basis. However, due to some reasons, she could not go join the programme at that time. Hazika secured offers at several reputed institutions in India such as the University of Delhi, Christ University, Jamia Milia Islamia, the University of Mumbai, and Kashmir University and eventually decided to go ahead with the University of Delhi.
Hazika had always favored quantitative subjects during school which fueled her interest in Economics and ultimately led her to choose the subject for her prospective professional career. Some of the research work during her bachelor's includes papers on "The Impact of Behavioral Finance on Stock Market" and "Comparing External Balance Sheets of Emerging Economies". She also worked at The Financial Doctor as a Research and Content Writing intern where she prepared content on financial well-being. She Graduated from Sri Venkateswara College, Delhi University with a BA, Economics and Mathematics in 2022.
During her undergrad, Hazika has interned in numerous corporations over a period of time that spans over two years to grow socially and as an individual. To refine herself as a professional, she joined the global community of AIESEC, a youth-run non-profit that aims at achieving the United Nations Sustainable Development Goals, where she served as a part of the business development team. Further, as a part of the Kashmir Education Initiative, she guided and mentored a high school student from Kashmir in studies. She has also headed an initiative called Project Book Bank by the social service society called National Service Scheme for a year, during which she helped in providing books and stationeries to impoverished children, while also offering voluntary online lectures to support their education. She has sldo headed the Research and Development Department at Girl Up Pankh, a U.N. initiative to raise awareness and funds to help hard-to-reach adolescent girls from developing countries.
Hazika moved to the United States in August this year to follow her passion for economics where she is doing her Master's in Financial Economics at Bowling Green State University, on scholarship. The program is ranked 5th best in the United States. At BGSU, she is working as a graduate teaching assistant, serving as her program representative at the Graduate Student Senate, serving as a member of the Dean Advisory Council on Diversity and Inclusion at the Schmidthorst College of Business and also serving as a Brother at Delta Sigma Pi, the nation's largest professional business fraternity.
Hazika wants to apply for a Ph.D. program after completing her Master's, and eventually hopes of teaching university-level economics one day.