Dipsites Visit Tulip Garden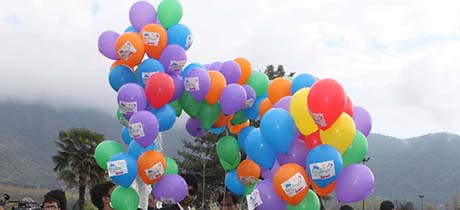 "Look deep into nature,
and you will understand everything better".
(Albert Einstein)
Photography
An opportunity was given to the students to visit the Gul-e-Laala Tulip Garden on 12th and 13th of April, 2014 they were involved in different activities.
Nine students namely Hamza, Ibrahim, Janan from class VII; Manan, Waqar, Reyan from class IX; Hanan, Anwar, Amaan from class X; and a special child with hearing and speaking disability namely Javid from Hazratbal were given an opportunity to capture the beautiful scenes which they later exhibited there. Ms. Dipti Bhatnagar (travel journalist), Ms. Shweta Pandit (Bollywood singer), Mr.Talat Parvaiz, Director of Tourism and many others praised the work of the Dipsites.
Ms. Dipti Bhatnagar honoured them by shooting a 5 minute documentary which will be posted on her Youtube channel (travelwithdiptibhatnagar)
Art
To create an artistic atmosphere at Tulip Garden, an on-the- spot art competition was held among the Dipsites on Sunday. Two judges from Delhi namely Mr. Kakkad and Mr.Sanjiv judged the work of the beautiful hands. The first prize was bagged by Fatima Abheer from class XII, second by Ifla Shah from class XI and third by Fanoos from class VIII. The rest of the thirteen students namely Hadiqa Tariq, Malik Irtiza, Zoya Zaffar, Ahamar Hassen, Ifra Zainab, Syed Basharat Ali, Hurain Masoodi, Kashaf-ul-Khair, Mohd.Manan Khan, MIsbah, Sheena Kour, Tauseef Ahmad and Aisha Khan were presented the consolation prize from the Department of Tourism.
Music
Nineteen students namely Basit, Seerat, Khansa, Mehvish, Hujat, Manan, Shahran from class XII; Khytul, Duha, Suhaib, Jibran from class XI; Saqob from class X; Rohan, Anha, Hammad from class IX; Noreen, Asna from class VIII; and Tabish, Bisma from class VII; were also given an opportunity to perform in the open. Students sang melodious Kashmiri songs written by Mehjoor and some other songs as well. The musical support was provided by the talented music staff of DPS,Srinagar. They were highly appreciated by the audience.
Mr. Imtiyaz Ali, (Bollywood director) who was also present on the occasion also praised the talent of the Dipsites.
In the evening a live concert of Shweta Pandit (Bollywood singer) organized by J&K Tourism Department was held at SKICC where the Dipsites performed again.