Inter-House Club Competition Awards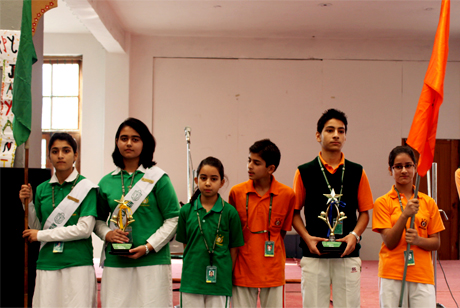 "The talent of success is nothing more than doing what you can do well and doing well whatever you do without thoughts of fame. If it comes at all, it will come because it is deserved, not because it is sought after."
This year we started with our Friday Club Activities which were framed according to the houses. 17 clubs taught the students 17 different skills which was a new learning experience for the students as well as the incharge teachers.
Different clubs were alloted  to all six houses:
1. Chinar House
Sculpture
Origamy
Batik Printing
2. Deodar House
Photography
Commercial Art
Pottery
3. Oak House
Vocal Music
Theatre
Public Speaking
4. Maple House
Paper Recycling
Embroidery
Instrumental Music
5. Poplar House
IT Club
Photography
Cooking Club
6. Willow
Wood Work
Willow Work
Paper Machie
Friday Club Activities. A mega event held on the 6th of September 2013. All the students tried to give their best. Everyone worked religiously for their respective houses and all clubs were assessed by our esteemed judges.
It was really a tough time for all the judges to decide the winner. On 4th October 2013 the special assembly was conducted where the results were declared announcing the Poplar House as a winner and Deodar House as a runner up. The honor of presenting the trophy was done by our honorable chairman sir Mr. Vijay Dhar.