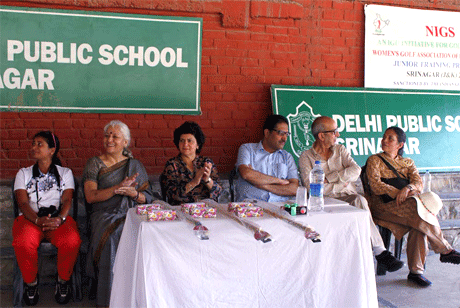 The school in an award ceremony Monday felicitated its students who attended golf- coaching camp held in the school.  28 students in different age-groups, 6-10 years had undergone golf training in the school.
The awards were given by Rising Kashmir Editor-in-Chief, Shujaat Bukhari who was also Chief Guest on the occasion.
Appreciating the talent among the youngsters, Bukhari said that learning golf at this tender age will help them to develop sportsmanship and love for the game of golf.
"Golf used to be an elite affair. Our own Royal Spring Golf Course is out of bounds for common people. But seeing students at primary level getting exposed to this game is worth appreciation," Bukhari said. He stressed on involving students in the co-curricular activities.
Kashmiri born instructor of the Indian Golf Union (IGU), Vikram Sethi was the lead trainer in the camp.
"The students were given basic training like how to hold shaft, how to strike ball, how to play hole and body position. The aim of organizing this camp is to bring golf coaching to Kashmir," Sethi, who also teaches at Delhi Golf Club from last 10 years, said.
General Secretary Women Golf Association of India (WGAI), Champika Sayal was also the instructor in the camp as part of (WGAI).
Chairman, Mr Vijay Dhar & Principal, Mrs Kusam Warikoo were also present on the occasion.