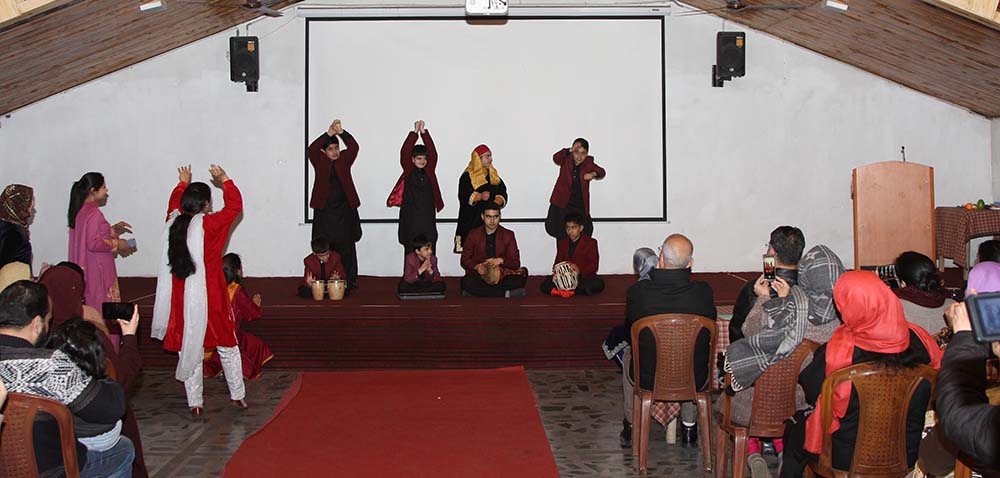 Annual Day Celebrations at Learning Resource Centre
---
The Learning Resource Centre, Delhi Public School Srinagar celebrated its Annual Day on 18th March, 2023 at the Junior Auditorium showcasing the ethos of love, peace, friendship and harmony. The Chairman, Mr. Vijay Dhar & Ms. Kiran Dhar and the Principal Ms. Shafaq Afshan presided over the programme along with the Chief-guests Mr. Shaheen and Dr. Tariq, parents, teachers and the students.
The event commenced with an inspirational note by the Chairman Mr. Vijay Dhar. In his introductory speech has congratulated the children and the staffs of the Learning Resource Centre for successfully completing ten years. He remembered the days when the school was started with only 2 children in the initial stage and reached up to 200 children in these years. He thanked the staffs, parents and the children for their cooperation and said the Organization is trying to do the best for these needy, deprived and excluded children of the society by motivating their parents and caretakers and by setting up full-fledged therapeutic centres for physiotherapy, speech and hearing therapy, vocational courses and by appointing qualified special teachers.
The Principal addressing the audience said, "We really have to appreciate these teachers and staff members of these children for constantly motivating children and for providing them the opportunity to grow up. Each child has very unique and special talent in them and it is the prime responsibility of the parents and the teachers to identify them and nurture them to become successful in their life. We are very proud for being a part of this Organization that responds to these children who are in need and who still are waiting for the opportunities to come to the main stream of the society".
With fervour and exuberance the celebrations of the day started as the students, jubilant in spirits, exhibited their talents by performing various cultural activities. The programmes of the event included Welcome dance, Play (Three Little Kittens and a Cat), a Mime Act, A Story narration, a Lyrical song performance, a 'Bhangra' performance and a 'Dandiya' Performance.
The last performance was Ramp walk which filled the auditorium with rhythm. All the performances were highly appreciated, applauded and enjoyed by audience. The event was concluded by a heartfelt thank-you note from the coordinator of LRC, Ms. Munaza. In the end parents shared their reviews and appreciated the efforts of teachers and whole LRC team.