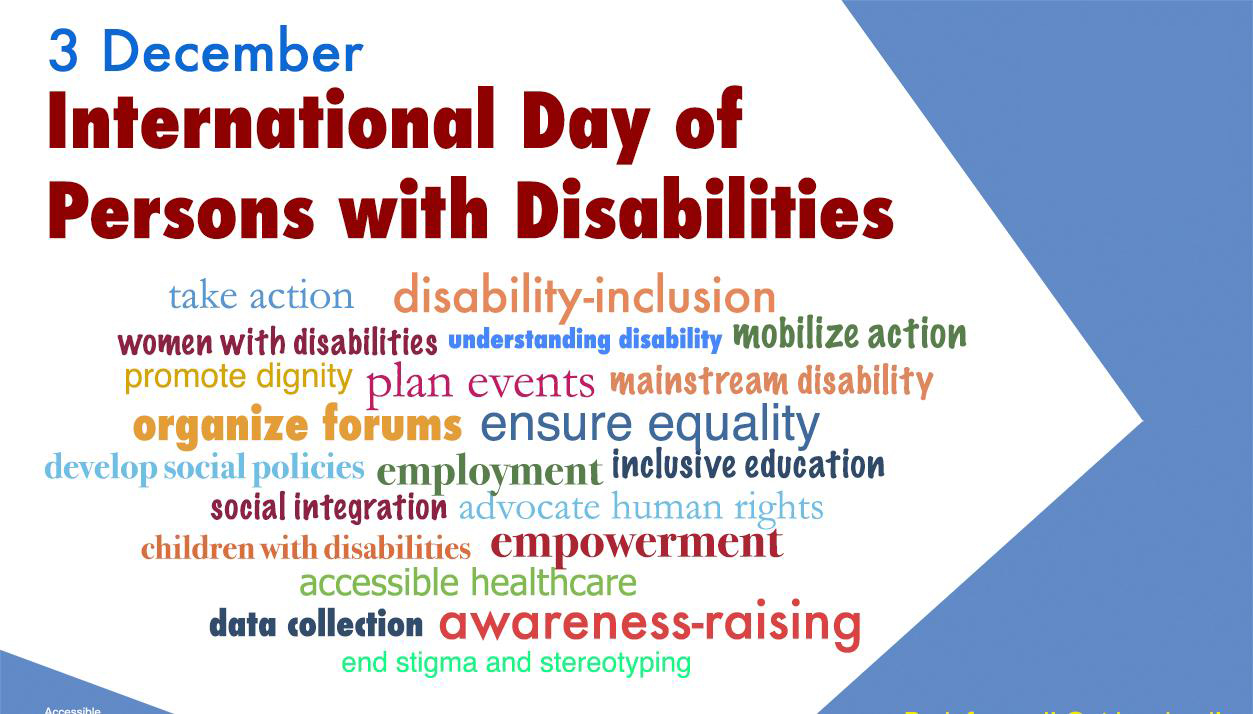 World Disability Day to be celebrated in school
---
Learning Resource Centre (L.R.C) will observe the World Disability Week, which will include awareness , articles , displaying inspiring activities and work done by our children which will directly aim to promote public awareness, understanding and acceptance of people with disabilities. The international day of people with disability is held on December 3 every year. Word disability day aims at increasing public awareness, understanding, accepting people with disabilities and celebrating their achievements with contributions. The aim of this day aim to promote the understanding of disability issues and mobilise support for the dignity, rights or wellbeing of persons with disabilities. World disability day is a day to help everyone become more compassionate and understanding of the challenges faced by people with disabilities. The spirit of the celebration of the day or the week is to ensure that all people in the world have equal opportunities for work, play, health, and success. People with disabilities very often contribute and are valuable members of the society and today is all about appreciating them.
This year's theme is "Building Back Better: towards an inclusive, accessible and sustainable forced COVID 19 world by, for and with persons with disabilities". The people with disabilities are disproportionately affected by the health, social and economic consequences of the global COVID 19 pandemic. This year's theme emphasizes the importance of strengthening our collective efforts for universal access to the essential services including education, digital infrastructure, information and other opportunities in order to ensure that persons with disabilities are not left behind in the time of crisis. Approximately 650 million people in the world suffer from some type of disability and as the population ages this figure is expected to increase. Those afflicted with physical, emotional or cognitive disabilities face in numerable serious and fatiguing challenges. Fortunately, the modern explosion in scientific and technological innovations provides extra ordinary opportunities to deliver profound to their quality of life. While the needs of specially-abled often remain unrecognised, world is making rigorous efforts to empower them with new innovations to help them chase their dreams. Below we list a few technology driven innovations that empowers and acts as support system for specially-abled children:
NuEyes Pro: is a head worn light weight and wireless pair of smart glasses which can be controlled through a wireless hand held controller or a set of voice commands. It's designed to help visually impaired see better. A camera on the front of the glasses captures the image and displays it magnified inside of the lenses.
Reviews: People all around the world are very pleased with the latest features like stream videos, scanning pages of text and listening it. The glasses are affordable and comes with 2 year warranty.
Eye gaze: It is an oversized hands free tablet device that allows someone to communicate, perform tasks and more just by using their eyes. This can be extremely beneficial for those who have challenges moving and for those who are non- verbal. The eye gaze is exciting because it can offer a form of independence to users by utilising its programs designed for anything from completing school assignments to turning on the television .The user is able to make all his/her choices by using his/her eyes.
Success story: How eye tracking gadget opened up the world for a girl with severe Cerebral Palsy.
Ganga is a teenager who suffers from severe cerebral Palsy she can't move her arms or legs much and she lacks fine motor control. Dr Michelle Harrison , who moved from US to India to take a leap of faith and bought an eye tracker for this girl which changed her world altogether. Ganga relies heavily on her eyes to communicate. When she wants to go somewhere, she points with her eyes. When she needs something she communicates with her eyes. Communication became easier for her as it benefited her a lot. Without the eye tracker it would have been really difficult to express her feelings. Ganga sticks her tongue out when she is thirsty. Dr Harrison says this has taught them that Ganga is learning how to use the app. All this requires navigation. When she wants to express a particular feeling e.g she is tired all she needs to do is go to the home page -categories- feelings- tired or when she needs food she selects food- coffee. This has made her life easier through communication.
Smart Belt or Smart Watches: people with epilepsy experience seizure at any time often without warning. In the recent years student at Rice University in Texas developed the seizure monitoring and response transducer (SMART) belt to detect signs of seizures. It can wirelessly send messages to guardians or care takers. Smart Watches on other hand is a patented intelligent and non invasive wrist watch that continuously monitors the user and instantly alerts the family members on the onset of abnormal movement patterns similar to those caused by seizures.
Success stories: How Smart gadgets helped improve the lives of people with Epilepsy.
Jill G Michigan: Late one night the smart Belt of Jill's young daughter alerted Jill to a seizure she was having while asleep. Without Smart Belt Jill's daughter could have possibly faced worst consequences.
Rebecca Y Nebraska : Her smart Watch alerted her partner after she fell down the stairs following a drop seizure allowing her to quickly send for help.
Look At Me: some children with autism struggle to initiate and maintain eye contact, so reading emotions of the people around them is more difficult. To help combat this problem, Samsung developed an interactive camera app called Look At Me. The app encourages the children to make eye contact with the parent or guardian through the use of smartphone camera and helps keep them motivated through themed missions, various sounds and visual effects.
IPhone and I Pad apps that help non-verbal children: Apps like Assistive Express can be life changing for those who cannot communicate verbally. It gives them a voice by allowing users to express themselves in a simple and efficient manner – keystroke. With these types of apps people can participate in conversations.