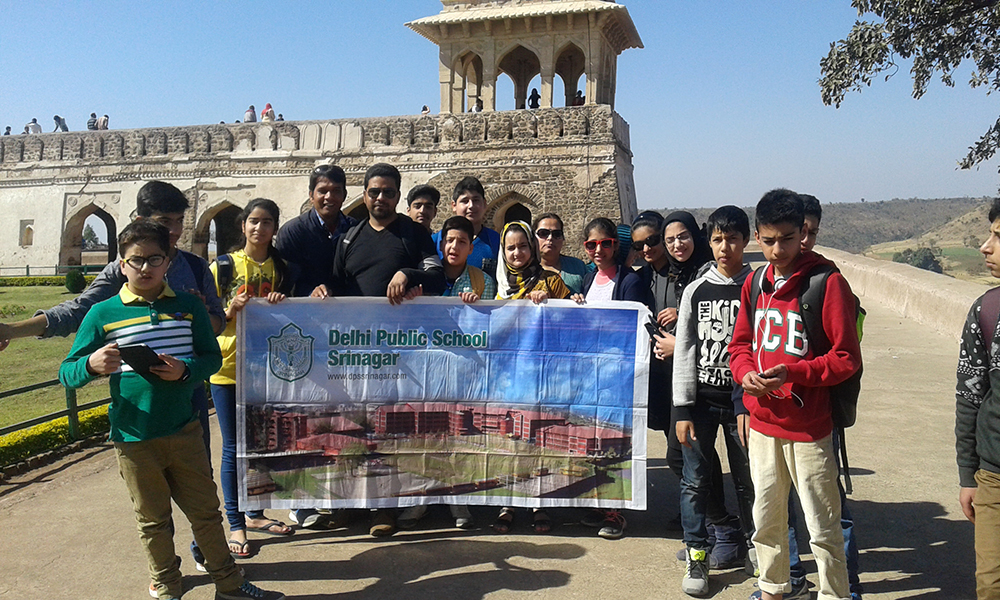 Student Exchange Programme to Indore
---
We two teachers along with the fifteen students started  our journey from Srinagar on 16th January and reached Indore. After a tiring journey, it was a sigh of relief to see Choitram School Indore. On 17th January we visited the Choitram School campus and interacted with the school students and made new friends. Then we went to Nakhrali dhani, an exhibition where there were many performances like puppet show, monkey dance, folkdance, magic show etc.The concept of the show was amazing and worth seeing.Some students did camel riding as well. At dinner we had an honor of having special cuisine of Rajasthan. Next day on 18th January we were taken to AV room where we met Ms. Raminder Mac (Dean of international affairs) and School Principal Mr. Rajesh Awasthi. He said that it was their pleasure to host us in their school and be a part of inter –state cultural exchange                   programme.
Students were allotted their classes and sections by Ms Raminder,afterwhich they attended classes as well as clubs. The clubs included Craft,Drawing, Music, Dance, Scouts &Guides,Eco club and Clay modelling club.Our students actively participated in each club.The whole session proved to be beneficial for them.
In the evening we visitedKaanch Mandir  – a beautiful  temple full of beautiful designs made in glass. Then visit to chhatri was also a nice experience.Chhatri is the historical place of kings and queens.On 19th January Annual Athletic Meet was held where DPS srinagar students participated actively and bagged positions.They participated in 100 mtrs and 200 mtrs race competition. Students had a time of their lives and also learntabout their culture and tradition.Some students also received gifts from their friends. Then we all returnedto hostel at 8:30.Another day we attended Annual function of senior students of Choitram school. In the evening we went to Malhar Mega Mall and C-21 Mall where we did some shopping.On 21st January we went to attend the morning assembly. This was a special assembly on the theme of "Independence Day of Palestine". After the assembly,the students went for their respective clubs and took part in various activities like Clay modeling, Art, Dance and Music etc.Students also had a session of French language with Ms.Komal Narang. Next, we went for calligraphy classes where we were introduced to new styles of writing an alphabet.Later, we had our dinner at friends place.On day seven i.e  22nd Januarywe again went for themorning assembly followed by the club activities which were done in groups comprising of  6 students for each club.Later, we visited Harniyakhidi village with eco club students,where students of choithram performed a street play and we sow some saplings and had an interaction with the students and teachers of govt school.After coming back students attended classes and then joined calligraphy classes afterwhich, we went for local outing chappan dukaan where students bought some eatables.
On Saturday we attended Maths Fest CBSE-I,  then visited Zoo and Lal Bagh.The visit to the zoo was an amazing experience. Students also enjoyed looking into the magic mirrors where they caught their funny glimpses.Visit to the Lal Bagh was also a great experience.It is a palace where king Holker lived.
On day nine it was Sunday, we woke up very early in morning and then we had to visit Mandu which is about 96Km away from Manik Bagh Indore (our present residence).Mandu is a historical place which was constructed by the king for his Queen.The queen used to worship river Narmada which flows through it. This ancient monument is very beautifully carved in spite of non-availability of proper tools in those days.While coming back we had a chance of entering from Alamgiree darwaza which was constructed for special guests. We also visited Jahaz Mahal, Masjid and parks.On 25th Januarystudents attended clubs and visited organic farm where we found a beautiful collection of flowers.The owner had different breeds of dogs and horses on his farm.On return we attended Calligraphy classes at school where we learnt new fonts of English alphabets. After that we assembled in assembly area and then from there all the students and teachers left with their hosts.On 26th January, we celebrated Republic day of India. Students of Choitram School performed different songs and dance items in this programme. Afterwards, we joined farewell party of 12th class in the Indoor sports complex.On 27th January, after assembly we went for clubs and learnt so many new things.We went for different clubs like eco club, quizzing club, health and wellness club and scouts and guides club in which we were taught some basic things for our life. As we had to practice for our assembly we couldn't make it to exhibition.On 28TH January,our students started the day with the special assembly presenting the soothing morning school prayer "LAB PAI ATEE HAI DUA BAN KAI TAMANA MERE" followed by speech on Kashmiri culture and performance on folk dance and song. Students and teachers of Choitram School were impressed by the beautiful presentation. On this day we went to Jimmy Mcgillian center for sustainable development which is an Indore based non-governmental organization for sustainable community development which is run by Ms.Janak Mcgalligan W/O late Mr. Jimmy Mcgalligan. There we learnt about use of solar energy.On 29th January our school boys conducted morning assembly.The theme was our culture.Boys presented a drama show which was written and directed by Sajid Reshi. The audiences burst into laughter when students of our school performed. Students were complimented as born actors for their mesmerizing performances. Then, students delivered speeches , thought of the day, Kashmiri folk song etc. After that we visited North campus of Choitram School and there we interacted with the students, they presented some beautiful performances in front of us. Then Mr. Sajid Reshi and Ms.Sushma sang a Kashmiri folk song and also a drama was played by our students.On Saturday,30th January we went for the assembly and after assembly, students of our school were distributedin different groups to perform some special items on camp fire. Students went for the singing practice as they had to prepare school song for camp fire. Teachers also prepared solo songs for camp fire.In camp fire our students sang a school song and presented a Kashmiri skit. Teachers also sang solo songs in Kashmiri language. Students of Choitram School also performed in camp fire.On 31st January,swe left early in the morning from hostel as we had to visit Meheshwar. We reached there by 12:05 PM and did boating in Narmada River. From there, we visited Meheshwar temple which lies on the bank of this river. This temple was affected by flood twice, once in 1930 and then again in 1933. This temple was constructed by Ahiliya Bhai. It remains always crowded because of its unique beauty.
On 1st february , we departed from Choitram School Indore with golden memories. It was hard for us to say goodbye after spending beautiful moments with our friends.Finally, we reached back to Srinagar.
As they say (Don't Cry that it's over Laugh that it happened).
At last we would like to extend our special thanks to Principal Ma'am, Chairman Sir and Ms.Sumaira for providing this wonderful opportunity to be a part of this exchange Programme. It was really a memorable trip.
Principal of Choitram School Mr. Rajesh Awasthi, Ms.Raminder Mac, Hostel wardens and all teachers and students of choitram family for being such a wonderful hosts whom we can ever forget.
Thanks
Sajid Reshi