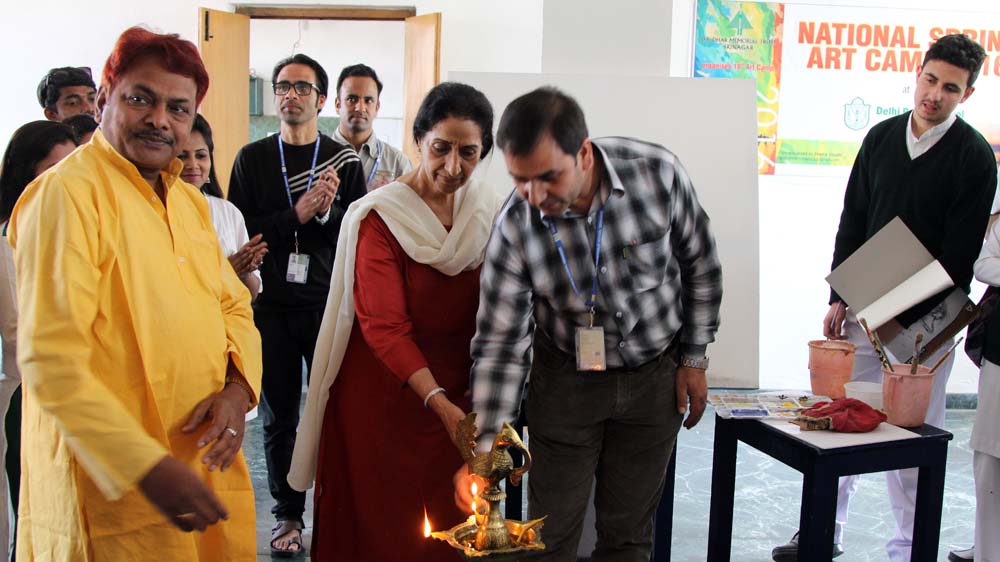 18th National Spring Art Camp Inaugurated
---
D.P. Dhar Memorial Trust, Srinagar is holding 18th National Spring Art Camp, Kashmir in Delhi Public School, Athwajan, Srinagar conceptualized by famous artist Shama Sondhi from 18th May to 23rd May, 2016 under the patronage of Vijay Dhar, the chairman D.P. Dhar Memorial Trust.
The trust has contributed a lot to the cause of Fine Arts. The trust has been hosting Tribal Art Workshops and Special Children's Workshops. These workshops have been attended by various national and international artists. In the present camp 16 renowned artists which are national awardees from all over India are participating which include Anil Ijeri, Bandana Kumar, Barun Kumar, Dharmendra Kumar, Dheeraj Yadav, Hansa Milan Kumar, Keshar Raut, Kalyani Uday, Manisa Gohil, Pramod Prakash, Shama Sondhi, Kusum Lata Sharma, Raju Kumar, Rajendra Sisodiya, Sonam Sikawas and Rajesh Kumar Singh.
D.P.Dhar Memorial Trust promoted the first art camp which was held in Srinagar in 2006 after a gap of 18 years. The artists were Delhi based and they also interacted with the children of our school.
Regular seminars and literary congregations are prominent features in yearly schedule for spreading art awareness in the society. Not only have we been holding these camps regularly we have also co-sponsored camps at our place with Lalit Kala Academy, Chinar International Society of Art & Culture and Art of Living, Bangalore and some commercial Galleries.