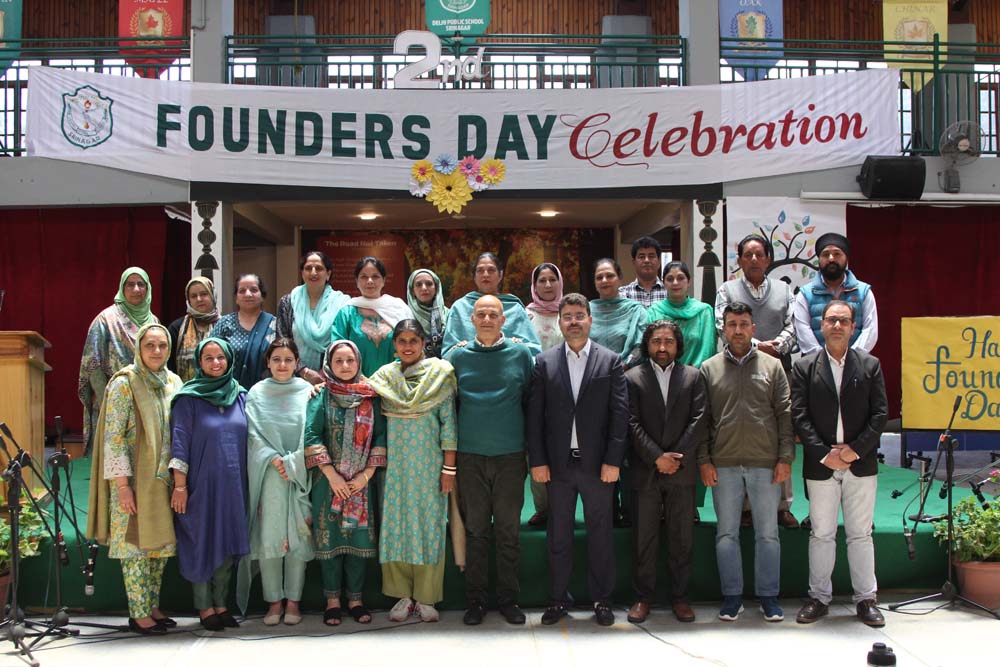 2nd Founder's Day Celebrated: Staff feted for commitment to education
---
On the occasion of Second Founder's Day, held on May 10th in the Indoor Stadium, DPS Srinagar came together to commemorate the birth anniversary of Shir D. P Dhar and the founding of the institution. It was an event to commemorate its legacy and success with enthusiasm and exuberance. The event witnessed performances — including Bhangra, Group Dancing and Gharba — by the students. A number of prominent individuals graced the events as Guest of Honor, including Mr. Vikas Dhar and Ms. Sunanda Dhar
The day commenced with the school choir singing the Morning Prayer hymns followed by the performance of LRC student. Faiqa's scintillating musical extravaganza performance was a joyful rendition which won the heart of the audience. The mesmerizing performance was followed by the addressal of Mr. Vikas Dhar who shared his experience and highlighted the qualities of the founder as an individual and the ambitions he had as an educationalist to take his brain-child, Dehli Public School, Srinagar to greater heights. He said, "This is an institution rooted in history and tradition. Over two decades, our students have included some of the most distinguished people in India and abroad. From uniformed services to administrators, from business professionals and industrialists, to authors and actors, DPS Srinagar has nurtured nascent talents and helped them come to fruition".
Following the speech, a variety of cultural programmes were organized, including music and dance performance by the students of Primary & Middle department and a "Gharba" folk dance by the students of senior department. Students from all the wings participated enthusiastically and showcased their talents. A special "Nukkad Natak" was also performed by the senior students showcasing various positives and negatives of the society. The specially choreographed play was well appreciated by all.
To mark the occasion, staff members who have completed 20 years of their service were felicitated with an award of gratitude followed by a speech by Ms. Rajni Mattoo, who said that it was a proud moment for all the staff members who are being honored. She reminded everyone of the humble beginnings and the long distance the school has traversed and spoke about the history of the school, its achievements over the years, and the important role played by its founders in shaping its vision and mission.
Concluding the event, the Principal, Ms. Shafaq Afshan congratulated the entire family and motivated them to pursue the vision of the school and work together to reinvent teaching with passion and perseverance. She thanked all the individuals who had made significant contributions to the school and especially to all the departments for making the event a success.