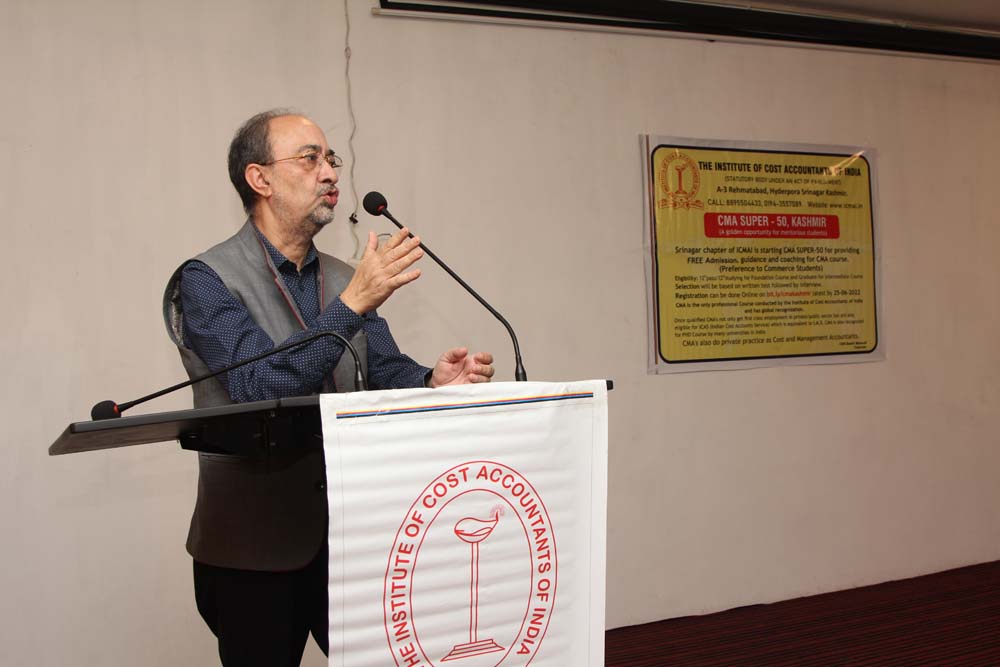 A career counselling session with CMA Bashir Masoudi
---
To enhance the DPS Srinagar career counseling initiative, a session with the students of Class XI and XII was held with Bashir Masoudi, in Junior College Auditorium on August 18th 2022, focusing on Accounts, Business Studies and Economics.
Bashir Masoudi is First Cost Accountant from Kashmir. He qualified the final Exam of Institute of Cost and Works Accountants of India in 1983 and became the Associate Member of the Institute in 1984 and is presently Fellow Member of the Institute. He is the Ex Head of Finance, Steel Authority of India, Rourkela Steel Plant. He founded Srinagar Chapter of Cost Accountants of India and was its founder chairman from 1984 to 1990. He was also chairman of Rourkela Chapter of Cost Accountants during his posting in Rourkela. He joined Jammu and Kashmir Bank as Manager Business Development in 1984 before joining Steel Authority of India (A Maha-Ratna Company). He worked in steel Authority of India in different places like Srinagar, Jaipur, Delhi, Chennai, Chandigarh, Kolkata, Mumbai and held senior positions in financial Management including Head of Internal Audit of North West Region of Steel Authority of India, and lastly superannuated from Rourkela Steel Plant as Head of Finance.
The objective of the programme was to enable students to understand the various career avenues open to them. The resource person emphasized that choosing the right career is a significant and pivotal decision in one's life. He pointed out how there is no dearth of opportunities and options be it in the CMA programme. He said that updating one's knowledge base and keeping abreast with technological advancements were essential to excel in the field. He emphasised the need for optimally harnessing the enormous career opportunities for professional cost and management accountants in various domains of finance and accounting in this era of digital economy. The session was an informative wherein students interacted with the resource person and got their queries cleared.