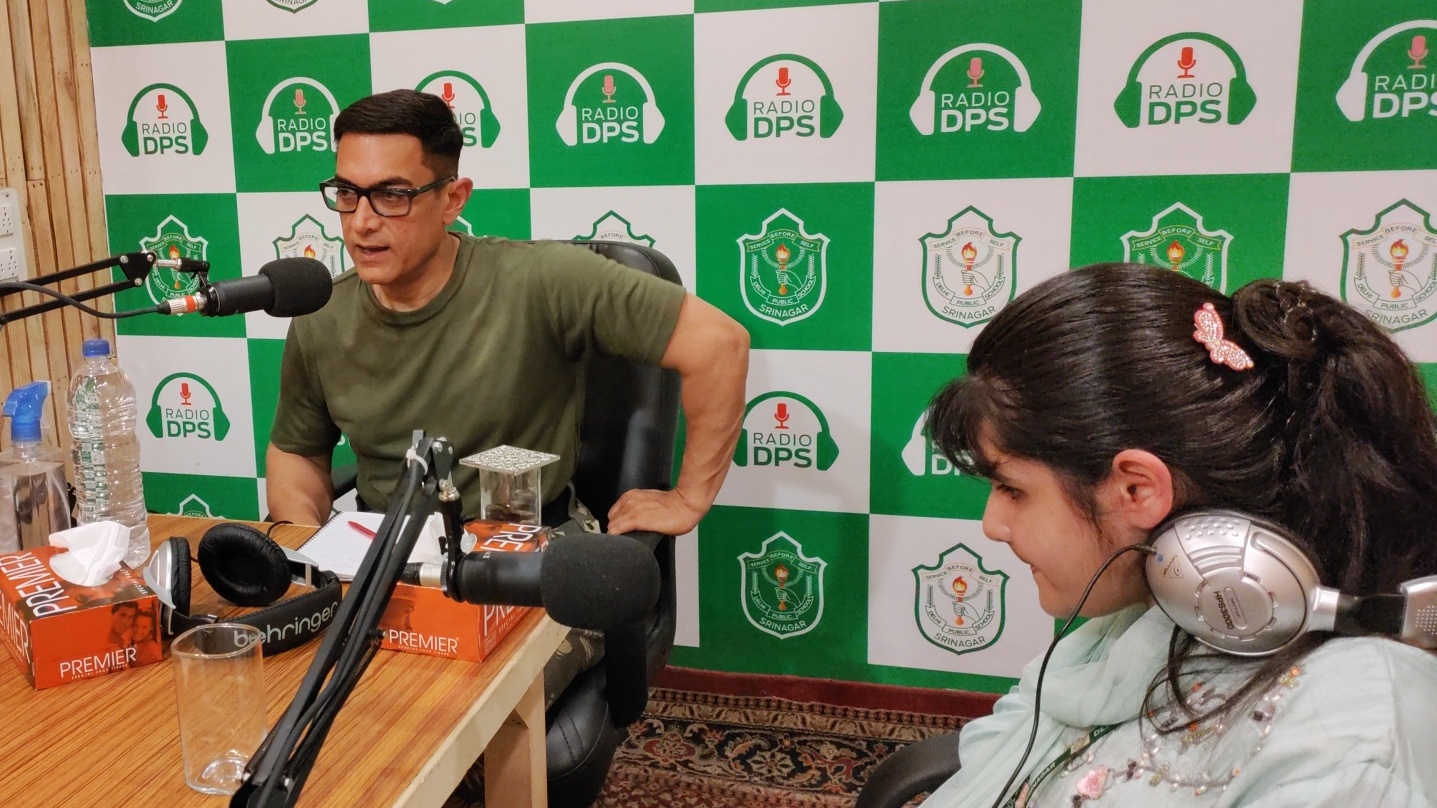 Amir Khan's interview with DPS Srinagar girl goes viral
---
The superstar appeared on the Radio DPS show with little Zainab
Srinagar: A Learning Resource Center (LRC) Student of DPS Srinagar – 12-year-old Zainab has become the first visually impaired child from the country who interviewed Bollywood superstar Amir Khan. The superstar appeared for the interview on Radio DPS, the first of its kind across the country that is completely run by the students of Delhi Public School Srinagar.
"This is the proudest moment of my life. I had never imagined that my dream would come true and I would get this opportunity to interview Amir Khan, who I adore a lot," said Zainab
"I consider myself very lucky that among thousands of students, I was the lucky one who got the chance. Even as I am visually impaired Vijay sir always makes sure that no specially abled students lag behind" she said.
Appreciating the dedication of Zainab, actor Amir Khan gave her his autograph which stated "Dear Zainab Thank You for a lovely interview, was a pleasure talking to you. Happiness always. Love from Amir".
The joy of the parents of Zainab knew no bounds when actor Amir Khan interacted with them and appreciated their effort and support towards their dedicated child.
"I felt extremely happy that my daughter interviewed a celebrity. This made me realize that my daughter has no stopping point in life. We are proud of her," said Zainab's mother.
Father of Zainab, Bilal Qayoom Rehbar while expressing joy over the role and support of DPS Srinagar towards shaping the lives of specially-abled students, attributed the success of his daughter to her school.
"Our child cannot see was our worst nightmare when Zainab came into this world. Then at DPS Athwajan, we were made to understand that Zainab is a special child and it's the effort of the school that Zainab is now making us proud and we are feeling like special parents," said her father.
Zainab, a specially abled student from DPS Srinagar interviews Actor Amir Khan. Despite being specially abled, the 12 year old girl becomes the first Visually imparied child who conducted a succesful interview and got the appreciation from the actor himself. pic.twitter.com/ksXILK7xGq

— Radio DPS (@RadioDps) August 10, 2021
"For all that happened till date, we are first thankful to Almighty and then to DPS Athwajan, especially the teachers led by a great human being Vijay Dhar who works day in and day out and makes sure that special children create an equal space for themselves in the society," he added.
"I conduct interviews only after I got a degree in mass communication from AJK MCRC Jamia Millia Islamia. Training someone who has no media background and is really young for a celebrity interview is not an easy job. You have to take care about the ethics, voice modulation, and other minute details," said Yasmeen Khan who works as station head for Radio DPS.
"Training Zainab was indeed a difficult task, I was really concerned. Her school teacher Saima who happens to be a special educator made the task really easy with her techniques, Zainab was also curious and dedicated to learn, so it was a collective effort," she added.
The teachers at school's prestigious department Learning Resource Center offer help and guidance to students who are autistic or visually impaired. All the specially-abled students are trained by professionals and special educators throughout.
"It is a blessing to teach a student like Zainab because she never says I can't but always says I will try ma'am. So often you find that the students you are trying to inspire are the ones that end up inspiring you," said Saima Nisar, teacher of Zainab.
Chairman DPS Srinagar, Vijay Dhar shared his immense pleasure over the achievement of Zainab and called it a remarkable move.
"This is a proud moment for the entire DPS Family that Zainab carried out a successful celebrity interview. We are overwhelmed that our students from LRC don't have a stopping point. We will look forward to more such activities that would involve the participation of special children," he said.