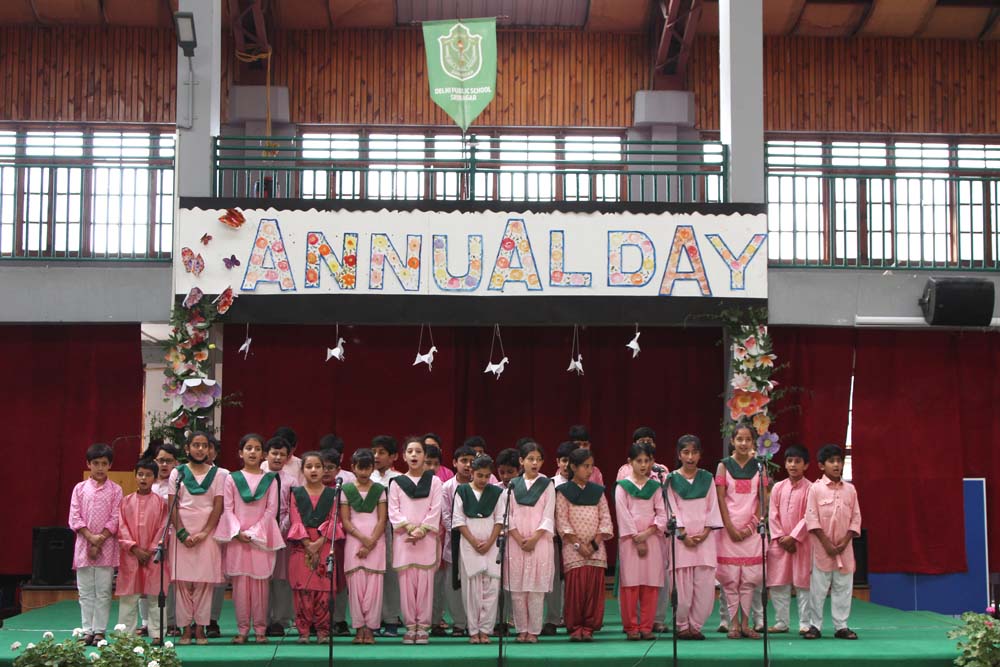 Annual Day celebrated by grade IV
---
"The Annual Day helps students to showcase their abilities. Not all students excel in academics; this, yearly day acts as a platform for students who wish to display their other qualities and every child feels included."
Delhi Public school, Srinagar celebrated its first Annual Day after COVID pandemic on the theme "Let's Save the Nature" on 3rd September 2022 for students of grade IV . The day was celebrated with great zeal and enthusiasm. An array of events, enkindling and inducing love for the nature left the audience wonderstruck. The profound message of "Let's Save the nature" which is the need of the hour was well depicted by the students through role-plays, dance, singing and various other items.
The event was attended by the Principal Ms. Shafaq Afshan, Academic Incharge (Tiny-Tots/Junior wing) Ms Radifa Khan and other academic incharges.
The event began with the school prayer, followed by English -Urdu blend song which children enjoyed singing on the beautifully played musical notes.
Subsequently, an Urdu skit grounded on the subject matter of deforestation which can directly lead to biodiversity loss when animal species that live in the trees no longer have their habitat, cannot relocate, and therefore become extinct. The heart -touching scenes of the play led to the emotional outburst of the audience where many of the parents were unable to choke back their tears.
From there on, a song based on the theme "Say no to Plastic" was another mesmerizing performance which really captivated the audience.
Subsequently, a skit based on the theme "Save Trees" was performed which really engrossed the audience and left them awestruck. The skit emphasized on the contribution of trees directly to the environment by providing oxygen, improving air quality, climate amelioration, conserving water, preserving soil, and supporting life. Children phenomenally presented the act.
Another euphonic Urdu song fascinated every one present there. The song emphasized on the phenomena of the physical world collectively, including plants, animals, the landscape, and other features and products of the earth, as opposed to humans or human creations.
A dance performance by students added spice to the event which bewitched the audience through their graceful and flawless moves.
Another divine song based on the treasures of nature was enchantingly performed which emphasized on the importance of all the elements of nature.
Finally, a dance performance depicting deforestation showcased the talent of our children. The students enthralled the audience with their alluring performance and left them speechless.
Later, a guest lecture on the importance of saving our environment was given by Rifat Mohidin ,a journalist and environmentalist based in Kashmir . She covers many subjects including climate change.
The event concluded with the vote of thanks given by the Principal Ms Shafaq Afshan who appreciated the efforts of students as well as teachers for making this event worth memorable and successful.