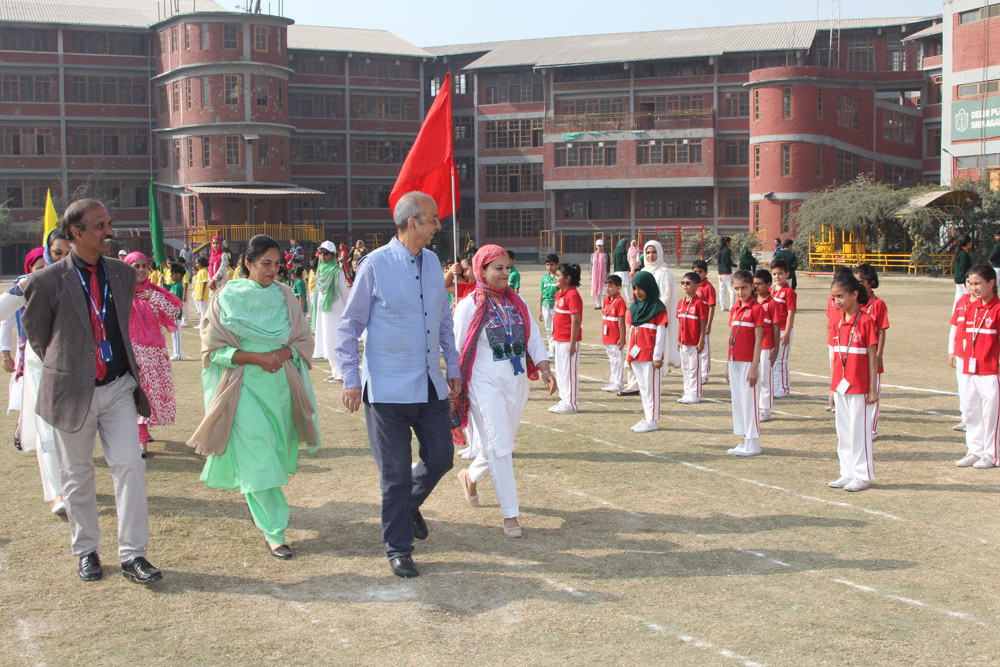 Annual Sports Day 2017
---
DPS Srinagar held its annual sports day today on 22nd October 2016 during school hours in the school ground. The aim behind holding the event was to inculcate the spirit of sportsmanship and fondness for sports in children. The day was a fun filled fest of laughter, energy and delight as around 1200 students presented and participated in various activities under the eager eyes of parents Farooq Ahmed Shah – Commissioner Secretary, Education kindly presided over the event as the Chief Guest. The school's chairperson Mr. Vijay Dhar, Mrs. Kiran Dhar, Principal Mr. Murali, and Vice Principal Ms. Shafaq Afshan also graced the occasion.
The event began with the March pass performed by the students of Class II. It was followed by a flag hoisting ceremony. The sports meet was declared open formally by a simple but heartfelt dedication to the desire for peace. Mrs. Kiran Dhar released two white pigeons to mark the desire. An oath was administered to students to participate in the sports day with true sportsman spirit. A prayer presented by class L.K.G lent a serene aura to the occasion. A melodious welcome song laid the ground for other lovely performances. Notable among them were various kinds of races including bucket race, and relay race, aerobics, display of sports equipment and Yoga. The spectators were particularly enthused by the gymnastic performances and praised the efforts profusely. One highlight of the event was a small skit presented by kids on the theme: Save the Trees. The skit was widely appreciated for its timely message. Prize distribution services were held at the conclusion of each event. The event concluded with a fun race held for parents and teachers. It regaled the students, spectators and participants alike as they discovered the hidden child in themselves.
In his concluding speech, the Chief Guest praised the endeavours of the school. He highlighted the necessity of sportsmanship in a world riddled with rat races for glory. The Principal also thanked parents for their support and encouragement that lent charm to the event.