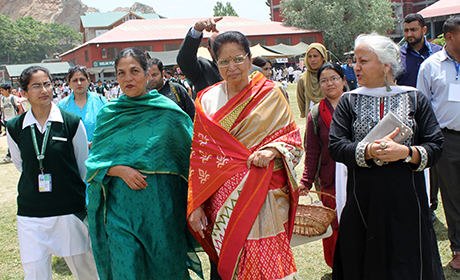 Art Exhibition Inauguration
---
DPS, Srinagar in keeping with its mission to promote art and artistic talent hosted an art exhibition. The school was honoured by the presence of the Mrs. UshaVohra in the school campus on 31st May, 2014. The First Lady inaugurated the Art Exhibition in the school indoor stadium. Various artists from outside Kashmir exhibited their art work. The students of the school also showcased their works and paintings.
Simultaneously, students of class XII presented their work-experience artifacts, which they had kept for sale. The First Lady was very pleased with the work of the students and also honoured them by purchasing a wicker basket. The students also interacted and explained the craft they had learned during their work experience.
Later, she also attended the theatre presented by class XII students who passed a powerful message against ragging and bullying with a performance titled 'STOP BULLYING'.
A report of the Chandahara (A village adopted by the school) was also presented to her by the school Heritage Club.
The visit of the First Lady was a great boost for the school and she voiced her appreciation by quoting that she sees a very bright future for Kashmir.
MEDIA COVERAGE