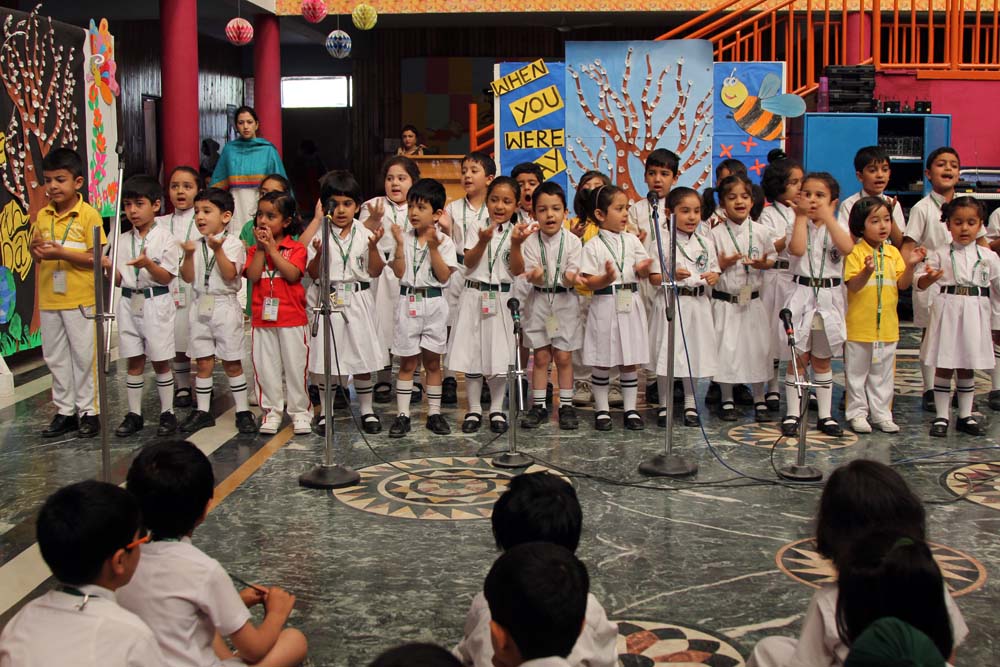 When you were away assembly – Tiny Tots
---
After three exciting months at school with plenty of events organized apart from regular studies, students of Tiny Tots had plenty to entertain our guests, Ms. Warikoo and Mr. Vijay Dhar in a special assembly arranged for them.
Excellent compering in English and chaste Kashmiri informed everyone of special events like The Badamwari visit, The farm Plantation Day and The Save Mother Earth and Eco Rally all aimed at sensitizing students to the environment around them.
Class LKG students regaled the audience with rhymes and class UKG students sang Fusion songs in English and Kashmiri in perfect unison. A skit by Class 1 saw students imploring the rapt audience to save and protect the environment. Class 1 also sang "Let's try to be loving", a song on good manners. The students of class 2 mesmerized the audience with a first of his kind "Dastan Goi" – story telling in Urdu, an ancient art form which drew a standing ovation for our guests. The grand finale was the performance by class 2 students who lifted the spirits of one and all when they sang Raag Bihaag. Be it the tanpura being played, the table beats, the melodious rendition of our young performers as they rendered one "taan" after the other kept the audience spell bound till the end.
Kudos students! This is just the beginning.