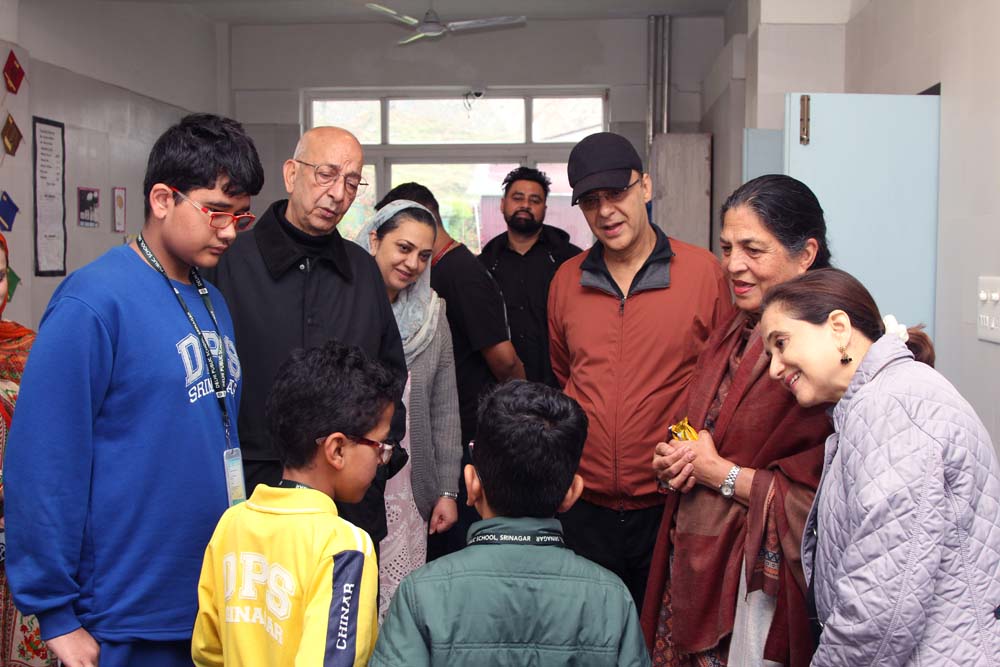 Bollywood Filmmaker Vidhu Vinod Chopra & Film Critic Anupama Chopra visit Delhi Public School Srinagar
---
Renowned Bollywood filmmaker Vidhu Vinod Chopra, along with his wife Anupama Chopra, graced Delhi Public School Srinagar with their presence today. The esteemed guests were warmly welcomed by the school management, faculty, and students, who were delighted to have them on the premises.
Vidhu Vinod Chopra, known for his exceptional storytelling and evocative cinema, has deep ties to Srinagar, where he spent his childhood. During his visit, he shared his nostalgic memories of growing up in the city and revealed how he developed a passion for movies. As a young boy, he would listen to films playing at the Palladium Cinema in Srinagar from outside, unable to afford a ticket.
Expressing his fondness for Kashmir, Vidhu Vinod Chopra spoke about his love for the picturesque valley, emphasizing how he incorporates the essence of Kashmir into his movies. His films, such as "Khamosh," "1942: A Love Story," and the critically acclaimed "Shikara," have beautifully captured the scenic beauty and emotional depth of the region. His other films include Munnabhai MBBS, 3 Idiots & PK.
During the visit, Vidhu Vinod Chopra was also interviewed at Radio DPS, the school's radio station, where he shared his experiences and inspirations in the film industry. The interview shed light on his remarkable journey from Srinagar to the glitz and glamour of Bollywood, inspiring young students to pursue their dreams with determination.
Accompanied by Mrs. Anupama Chopra, a renowned film critic and author, the esteemed couple took a tour of the school premises, exploring various facilities provided by Delhi Public School Srinagar. They paid a special visit to the school library and the Learning Resource Centre, where they interacted with students and encouraged them to foster a love for reading and learning.
Speaking about the visit, Vidhu Vinod Chopra stated, "Returning to Srinagar always fills my heart with joy and nostalgia. It is an honor to visit Delhi Public School Srinagar and experience the world-class infrastructure and facilities offered by the school."
Vijay Dhar, Chairman of Delhi Public School Srinagar, expressed his gratitude for the distinguished guests' visit, stating, "We are privileged to have Vidhu Vinod Chopra and Anupama Chopra grace our school with their presence. Their journey in the film industry is truly inspiring, and we hope their visit leaves a lasting impression on our students."