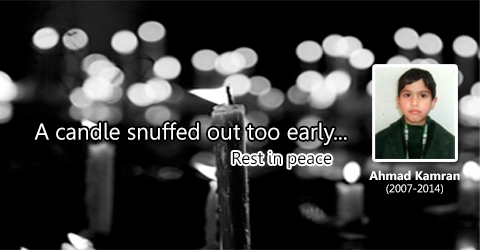 A candle snuffed out too early…
---
God knows how much we need them,
and so He takes but few.
To make the land of heaven
more beautiful to view.
So when a little child departs,
we who are left behind,
Must realize God loves children.
Angels Are Hard To Find!!
Ahmed Kamran, student of class II – A passed away on 6th November, 2014 after a prolonged illness.
Always cheerful, full of mischief, fond of games and very friendly Ahmed was a source of joy to  both his friends and teachers in school. The school management, teachers and students of Delhi Public School offer their heartfelt condolences to the bereaved family in their hour of grief.
May God grant eternal peace to Ahmed Kamran.