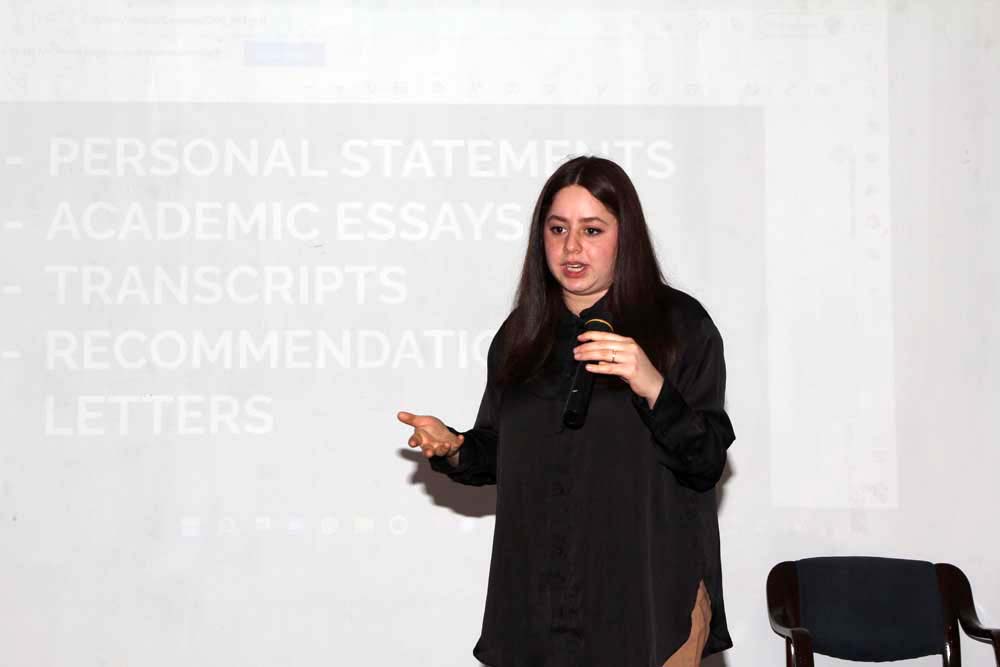 Career counselling session with Muda Tariq
---
DPS Srinagar organised a career counseling session with its Alumna, Ms. Muda Tariq on June, 18th 2022 on "Generic overview of Application processes, funding opportunities and how to create a strong profile". The objective of session was to make the students understand about the application process, reducing barriers to completing applications, transcript, standardized test scores, recommendations, personal essay and extracurricular activities.
Muda advised students to begin preparations as early as possible: "As well as searching on the internet and checking the web pages of individual institutions, speaking to family, friends and teachers who have studied overseas is always a good place to start and a way of narrowing down choices". She pointed out the importance of having "a realistic understanding of what it will cost, and how to pay for it". She emphasized the importance of personal statement and said that almost all applicants who apply to top universities will have high predicted grades that will meet the university's academic requirements, so any other personal information on the form is a very important way in which a student can impress the selectors. Muda also explained about some of the common mistakes to avoid while filling up the college/university applications, benefits of "cold-mailing" and weighing up all the factors in order to make the decision. In addition, the participants also learnt about the various funding opportunities offered for different courses and how to search & apply for them. The sessions will also include interactions with the participants about their queries & challenges.
Muda Tariq graduated with majors in Political Science and a minor in Economics in 2020 from Lady Shri Ram College for Women, University of Delhi and a post-graduate degree in Conflict Transformation and Peacebuilding. She has served as the President of the Department of Political Science, LSR, and as the Project Head of an UN-recognized students' social entrepreneurship project, Basta: Waste to Worth, which strived towards the creation of sustainable women-led economies. She volunteers as the Communications and Advocacy officer with the Peace building Project and has previously interned with the Women's Regional Network. She is a fellow at the EU- funded ALLY project and currently works with FORUM- ASIA with their South Asia Programme. She is an incoming MPhil Candidate at the University of Cambridge as a Cambridge Trust Scholar and Fitzwilliam College Charlton Awardee. She is passionate about working on the intersections of human rights, gender, and conflict.
The session was very interesting as Muda shared her own examples which established an instant connect with the students. The session ended with clarification of ambiguity amongst the audience, followed by a vote of thanks.