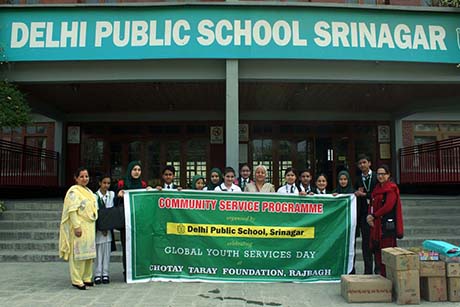 Celebration of Global Youth Services Day
---
A programme was organized to celebrate the Global Youth Services Day. Students of class VII were given a chance to visit an NGO,which works for the orphans and the unprivileged children.
The programme was organized on the 10th of May 2014 and thirteen children from class VII; Sonika, Arzoo, Noman, Mahrukh, Ahmad, Mehreen, Sama Fatima, Maleeha, Munfara, Gurleen, Shehreen, Sadiya, Noreen Shah accompanied by Ms. RajniMattoo and MS. Syed Sumaira visited THE CHOTAY TARAY FOUNDATION, RAJBAGH.The students actively participated in the programme. They distributed stationary items among the children, read books with them and also played various indoor and outdoor games. They held a story telling session and enthusiastically interacted with the Special children.
The Heritage Club organized a visit to the Chandhara- Heritage Village on 11th of May 2014. Twenty one students from class VII, VIII and the School Heritage Group ; Tehreem, Neemat, Shahaab, Asif, Uzma Tariq, Hamza Ibrahim, Zaheen, Hafsa, Hina, Afnaan, Anfaz, Sahiba, Khalid, Rabiya along with six teachers; Ms. PoonamBhan, Ms. SushmaKoul, Ms. Syed Sumaira, Mr. ShowkatGanaie, Ms. Farhana Shah, and Mr. Tejinder Singh paid a visit to the village. The students had organized a Cricket Match, a Kho-Kho match and a Hop scotch match with the students of the local school on the other side.
The matches were played with zest and the students depicted true sportsmanship. Reading Books and T-Shirts were distributed among the children as a participating token. The winners were awarded with the awards as well.
Invalid Displayed Gallery