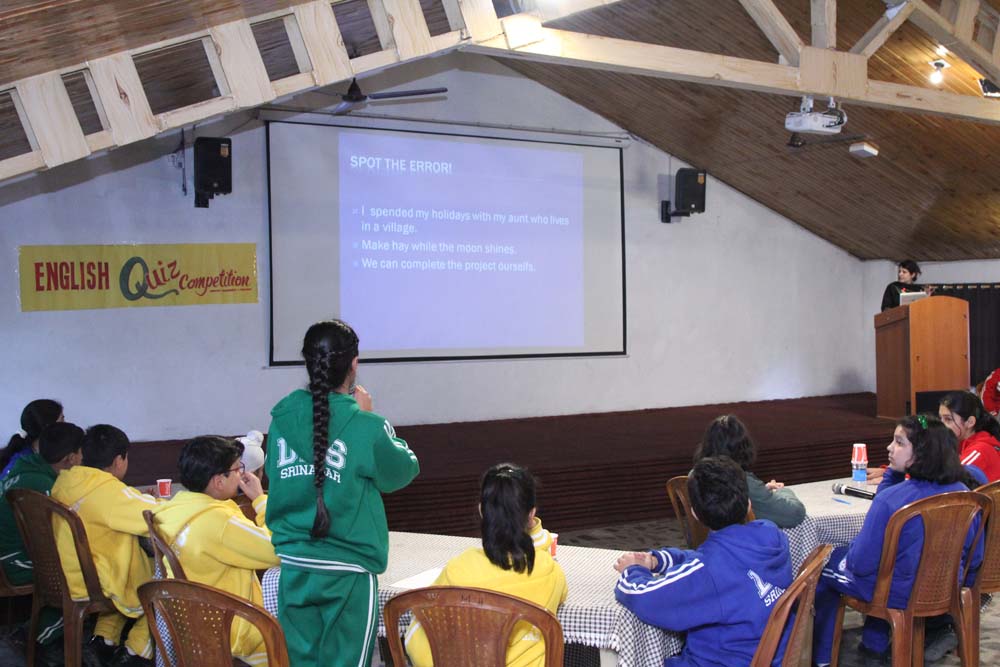 Class 5 and 6 students showcase their English Language Skills in Quiz Competition
---
On 27th April 2023, an English Quiz Competition was organized for Class 5 and 6 students at Delhi Public School, Srinagar. The purpose of this competition was to test the students' knowledge of the English language and improve their language skills.
The competition was held between six teams, namely, Sunflower, Pansy, Daisy, Marigold, Lily, and Daffodils, each team comprising of four students.
The quiz was divided into four exciting rounds. In the first round, each team was asked five questions related to various topics like grammar, authors, spellings, proverbs, and idioms. The second round comprised of the visual round where each team was shown pictures and asked questions related to them. The third round was the 'spot the error' round, where each team had to identify and correct grammatical and spelling errors. The final round was the rapid-fire round where each team had to answer 10 questions in the limited time frame.
All the teams performed remarkably well and exhibited excellent teamwork, knowledge, and enthusiasm. At the end of the competition, team Lily emerged as the winner, scoring the highest points with their brilliant answers. Pansy secured the second position by proving their quick wit and immense knowledge. In a nail-biting finish, Marigold and Sunflower team managed to secure a tie, but the final question helped Marigold to emerge as the third-position holder.
Overall, the English quiz competition was a great success and provided an opportunity for the students to showcase their language skills and knowledge. The competition not only enhanced their knowledge but also instilled a sense of healthy competition, teamwork, and sportsmanship in them.