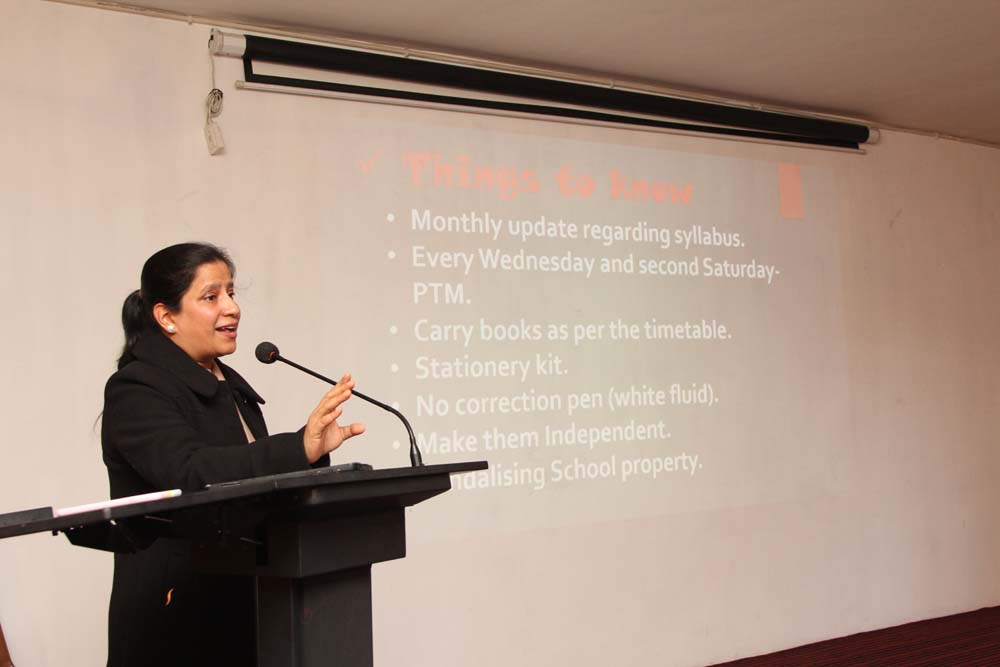 Class V Parent Orientation
---
In its quest to provide quality education to its students and with the sole purpose of bringing the two most indispensable factors of the child's journey of education i.e the parents and teachers, closer to one another the school organized an orientation programme for the parents of class V.
The Orientation began by the welcome speech by Ms Monisa Khursheed, Academic Incharge, Middle wing, Delhi Public School Srinagar.
She gave the brief introduction of herself. She informed parents about the examination pattern along with the weightage, importance of maintaining notebooks, submission of subject enrichment, and annual planning. Concluding her address, Ms. Monisa emphasized bridging the gap between the parent and the teacher. She requested parents to be active on Campus Manager as well as Google classroom and laid emphasis on the holistic and creative development of the child. Moving further, she also spoke in detail about ways of nurturing a child with love and care to build a strong foundation for a glorious future and tips for good parenting. The chairman of the school, Mr. Vijay Dhar then gave a brief speech whereby he thanked the parents for their cooperation and highlighted the growth and performance of the students over the years. He thanked parents for attending the orientation and expressed his gratitude for their support. He then further reiterated the importance of communication between the school and the parents. He highlighted the need for parental involment in their children's education and to be aware of the school's policies and procedures.
Miss Muneizah, Coordinator LRC (learning resource center) introduced her department by sharing the details and facilities available at the department of LRC. She explained in detail, who all need LRC and whom to approach for the same. The presentation was followed by an oration of all subject teachers who briefed parents about various activities and methodologies that are employed by them to enrich their subjects and make learning fun and effective in their presentation, which not only are a vent to the creative talents and energies of the children but also help in their all-round development. The parents were encouraged to interact with the teachers and spend time with their children.
The orientation programme proved to be a sincere effort made by the school in educating the parents to look after and guide their children in a proper manner. The orientation programme ended on a good note with an aim of growing our children into happy, skillful, disciplined and responsible beings.