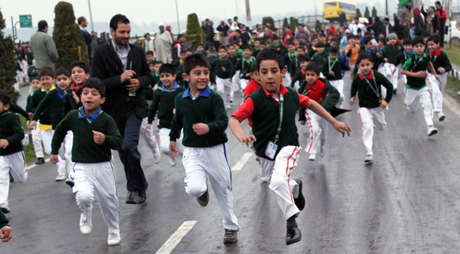 Cross Country Run for classes I & II
---
"Believe that you can run farther, farther or faster."
Cross country is sometimes a hard sport to tackle but it's extremely rewarding because you feel you have really achieved something incredible after completing a run.
Rain did not play spoilsport or dampen the spirits of 446 girls and boys who gathered at Fishing Point, Foreshore today for the cross country race with the theme "GO GREEN, GO CLEAN".
Parents dropped enthusiastic students, who today did not grumble even when they were woken up in the wee hours of the morning. The 1.2 Kms race was flagged off by Mrs. Kiran Dhar. Students put in their best efforts which was wonderful to behold. Students returned to school in a cheerful mood where the prize distribution ceremony took place. Students proved today that, "Come what may, we shall overcome!" Kudos to you! dear students.
"Runners just do it. They run for the finish line even if someone has reached it first."
Students today all of you are winners.
Invalid Displayed Gallery