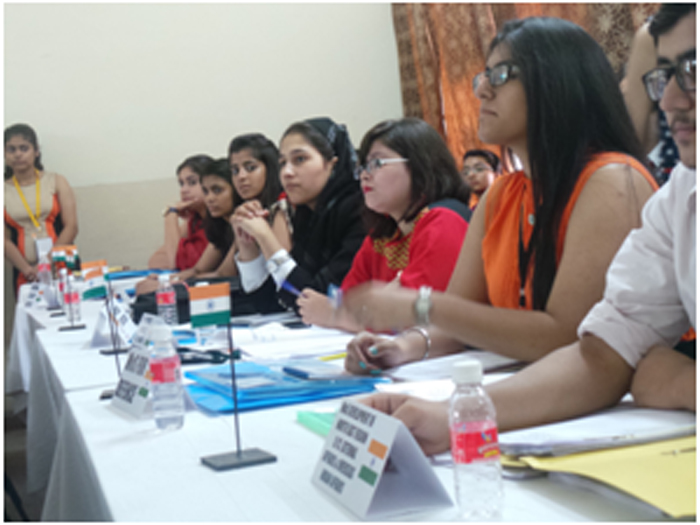 Delegates from DPS Srinagar participated in Bhavan Vidyalaya Chandigarh Model United Nations Conference-2014
---
The Model United Nation Conference is a forum which simulates the working and functioning of the United Nations and act as a learning platform for students. The Students represent different nations as International diplomats. The Young Diplomats exhibit their depth of knowledge, vocal powers, negotiation etc. The Moto behind this is to make a student Global Student.
Bhavan Vidyalaya (BV) Chandigarh organized Model United Nation (MUN) 2014 under the theme of Ad Astra Per Adversa-The Urge To Surge.
A team, consisted of seven members of the Delhi Public School; two escorted teachers, Mr. Muzaffar Ahmad Bhat and Mr. Manzoor Ahmad Mir, and five students, Mehvish Wani (11th ), Muskaan Shafat (10th G), Naysan Arif (10th G), Saiflan (10th F) and Sibti Abass (9th D) went to MUN (Model United Nations) organised by the Bhavan Vidyalaya Chandigarh.
On 1st August, the assembly started with the lighting of the lamp by the honorable chief guest, the trustee of the BV and the Principal of BV with a teacher of the school reciting the religious hymn to get showers of heavenly environment. The song was sung by the choir group of the school in perfect melodious voice that was putting forward the fact that the world is home to all the people, there needs to be peace as suggested by the think tanks of the country like Rabindra Nath Tagore. The song's lyrics were the writings of Tagore and the last stanza was the writing of the teacher of the school. The dance depicted contemporary art that the earth with its entire people were a safe and a peaceful place, and is now disturbed by negative and heart trembling influences.
The best part of the assembly was the presentation prepared by two students of the BV. The presentation put forward the condition of children in armed conflict in countries like Syria, Egypt and Afghanistan, as videos that spoke in volumes about the brutality all around the world.
After the assembly, the conference started and the delegates went to their respective committees to debate on the issues of the world. The five delegates (DPS team) were given five different countries or committees. The delegates were now formally introduced to the rules and functioning of their respective committees. There were a total of 2 sessions held which were divided by the lunch break in which delegates met each other. The first day was very amazing and the students realized that their counterparts had better researched and already experienced the same many times. Next two days, 2nd and 3rd August, the contingent of our school gained lot of confidence and developed international understanding.
Invalid Displayed Gallery