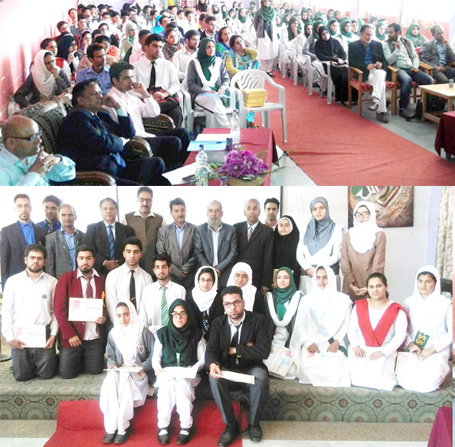 Dipsite Shines in Inter School Symposium
---
Zainab Nissar takes first prize in Inter School Symposium held at Green Valley Educational Institute on 27th May 2015.
Zainab Nissar a class 12th student brought laurels to our school by bagging first position in inter school  symposium….
A  symposium was organized by the Green Valley School on 27th May 2015 where students from across various government and private schools on Wednesday set the stage rocking with the debating event. The daily Rising Kashmir in collaboration with Green Valley Education Institute, Elahi Bagh organized an inter-school symposium on 'Social Ills Afflicting Kashmir Society'. Vice-Chancellor of the University of Kashmir (KU), Khurshid Iqbal Andrabi who was the chief guest on the occasion urged the students to have a down-to-earth attitude and work hard for excelling in different fields. Zainab Nissar  spoke over the growing dowry menace, declining sex-ratio and not only extravagant marriages but death ceremonies. Our School took the first prize consisting a cheque of Rs. 5000 and a certificate.
"Showing-off has become so rampant in our society that the most celebrated ceremonies are the death ceremony where in-laws are supposed to bring gold coins besides condolence visit," Zainab said.  She had also a visual presentation for the audience while speaking on the topic. She was appreciated by the judges  for her confidence  and thought process.