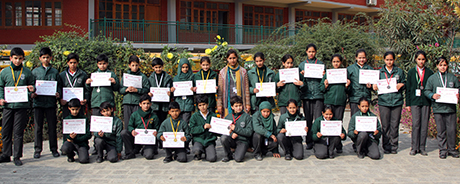 Dipsites participated in District Thang Ta Martial Art Championship
---
The students of our school made us feel proud by winning gold, silver and bronze medals in Two Day District Thang Ta Martial Art Championship held at Women's College Nawakadal, Srinagar sponsored by J& K State Sports Council which was held from 11th to 12th of November, 2015. Around 200 players both boys and girls participated in the championship competition under 29 kg's, 33 kg's and 37 kg's weight category.
Students of our school who bagged Gold Medals are:
Numan (5th), Zara (5th), Namra Zahoor (11th), Sairah (5th), Romaan (5th), Shafeeqa (11th), Muzam (12th) and Sofiya (5th)
Students of our school who bagged  Silver Medals are:
Mohammad Samaan (5th), Ayan (5th), Syed Tahir (12th), Gousia (11th), Arsalna Tariq (11th), Hiba Basharat (5th) and Madiha Aijaz (5th)
Students of our school who bagged  Bronze Medals are:
Yamin Hyder (5th), Haroon (12th), Farhaan (10th), Saliq Mushtaq (5th), Wasik Khursheed (10th), Wani Sawlat (10th), Ilka (5th), Seerat (11th), Shifa (5th), Anzalna Arsh (5th), Ziya (5th), Farah (5th), Husban Raina (10th), Sania (11th), Hazik (10th), Zain (5th), Aamana (5th) and Fahad.
Some of our students were given participation certificates which include Samar, Jallel, Nabeelah, Riyan, Qasim, Adeel, Mavin, Anusha, Jannat, Naveed, Zaid, Mehraan Manzoor, Saliq, Mehraan Amin, Burhaan, Anas and Enaam