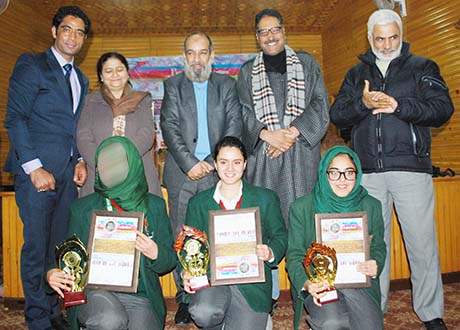 Dipsites won "War of Words" debate at KU
---
Dipsites participated in parliamentary debate contest organized by Pace Productions in collaboration with University of Kashmir. Our girl students Assar Lone, Zainab Nisar & Haaika emerged as the winners from the rest of 23 teams that participated in the event.
Our students crossed a tough battle in order to compete in the 'War of Words' debate tournament held in KU. Students competed against debaters from 23 other schools, colleges and Universities.
The Debate was both (prepared and impromptu). Despite it being only their first competition of this kind. The organisers said that the parliamentary format of debate was the first of its kind held in KU campus.
Our students took home the first prize in Debate against KU Business School students Zubair Waja, Mahoor Shaw, Sheezan Rather who won the second among the other contestants.
The higher education should be made free – was the final subject of the debates held between the two 'houses'. Our  girls achieved it in just 10 minutes of the preparation and a topic given to them by the Jury members.
One of our debaters Assar Majeed who won the title of third best speaker of the tourney said that she has started debating from the age of 14.
"I was in 7th grade when I first participated in debating in my school. This debate was my first debate after the gap of five years. I am perusing Humanities as my subject in my school and I have big plans for joining politics in future.
The first best speaker title was given to Babar Billal, an 8th standard student of Burn Hall School and the second best speaker was given to Zubair Ahmed of Business School KU.
Editor-in-Chief, Rising Kashmir, Shujaat Bukhari said that he was thrilled to see young students debating on the serious themes. He lauded the organisers for organising first ever parliamentary debate contest at the KU campus.
Hearing a fabulous debate between KU Business School and DPS Sgr Cant believe young students taking on PG's with such grit and confidence.

— Shujaat Bukhari (@bukharishujaat) November 28, 2014

"Rising Kashmir is always open to help such initiatives by the KU and other people which matter to the general student's community. I was very much impressed the way DPS students presented their argument on a very serious theme," he said. "I would suggest this model should be also applied by our political figures of the state with the masses to deliberate on any serious issue."
Bukhari said that such type of new formats in debating should be encouraged as they bring innovation and creativity in these competitions.
Registrar KU Prof Zaffar A.Reishi who was special guest of honor on the occasion said that University would continue to organize more such events where students are exposed to international formats of debating and other competitions and in the nearby future he said KU has invited a noble laureate to visit the campus and interact with the students on the sidelines of the INSPIRE program.
Earlier Dean Students Welfare KU Prof Neelofar Khan said that said that parliamentary format of debating is first of its kind in Kashmir and hoped that it will serve as a platform for the youth of valley to showcase their debating skills at National and International level.
The 3-day mega event had a wide range of jury members who adjudicated the 24 different teams.
Director Pace Productions Faizan Ul Islam conducted the proceedings of the competitions on the final day while as, Shahid Ali Khan, Cultural Officer DSW KU was the In-charge of the three-day debating competition.
MEDIA COVERAGE