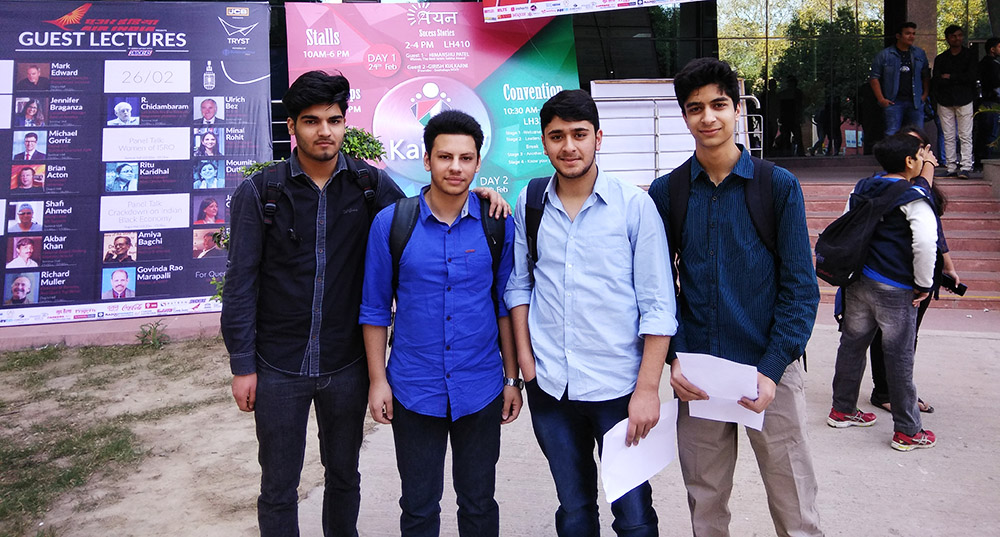 Dipsites participate in "Tryst" at IIT Delhi
---
For the first time in the history of DPS Srinagar four of our students had the privilege to take part in the annual event of IIT Delhi, "Tryst 2017", on 25th February 2017. Abrar Yaseen, Muazzam Khursheed, Uzair Hussain of class X and Haider Javaid of class IX got the chance to particpate in the event "Tryst" which was organised by Robosapeins in collaboration with IIT Delhi. The event was a platform for thousands of students to get hands-on training through different workshops related to information technology. It is one of the most famous IT events of North India in which thousands of students from across hundreds of colleges and schools take part. The various aspects dealt with in these workshops were:
Android App Development
Sixth Sense
Quad copter
Embedded Systems
Our students got the opportunity to learn to design 'quadcopter' which is a multi rotor air vehicle that has marked its interests for the benefit of both civil and military domains. It's amazing maneuverability and the ease to fly in constricted locations has claimed a remarkable position for it in the aviation sector. The workshops enriched our students with knowledge about concepts, complexities and use of accelerometer sensor, micro-controllers, and wireless communication.
'Android App Development Workshop' gave our students a fair chance to learn how to use Android OS for building their own Android Application. They were provided with the basic knowledge of programming required for the Android App Development. The workshop started with the basics of Android system like designing layouts and building complex layouts which was followed by the development of Android applications.
Another brilliant workshop was the 'Embedded System Workshop' which mainly focused on the students eager to learn about Embedded System using 8051. The students got a chance to expand their knowledge in the field of designing, construction, operation, and application of Embedded System with real time practical experience using Robosapiens 8051 Development Board.
Overall the workshops helped our students to enhance their knowledge and understanding of various domains of latest technology. Our students were also awarded certificates issued by IIT Delhi during the concluding ceremony.