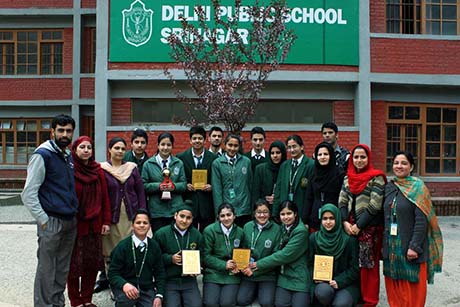 Dipsites participated in Science Awareness Mela
---
A Science Awareness Mela was conducted by the Jammu & Kashmir Students Welfare Society, a mega event under the aegis of National Council for Science and Technology Communication (Department of Science and Technology), New Delhi, in collaboration with Khalsa High School, Magarmal Bagh Srinagar from 11th to 13th April, 2014 to impart scientific attitude and aptitude among students as well as teachers.
Twenty six students from DPS, Srinagar namely Azan, Faisal, Iram, Zahida, Madiha from class XII; Juzalan, Salik, Faiz, Dhuha, Ifra, Syed Ifla from class XI; Sana, Zaffar, Barha from class X; Monis Mohd., Atneep from class IX; Shaza, Aqsa, Neemat from class VIII; Soonika, Bisma, Puneet,Huriya, Zahir, Usman and Areshva from class VII, accompanied by three Science teachers namely Mr. Ashiq Majeed, Mr Mushtaq Ahmed and Mrs. Poonam Wazir, participated in various activities like painting competition, essay writing, science quiz, science seminar and science drama and successfully bagged 1st, 2nd and 3rd positions respectively.
Once again our students have shown a healthy scientific temperament and done their school proud.
Invalid Displayed Gallery