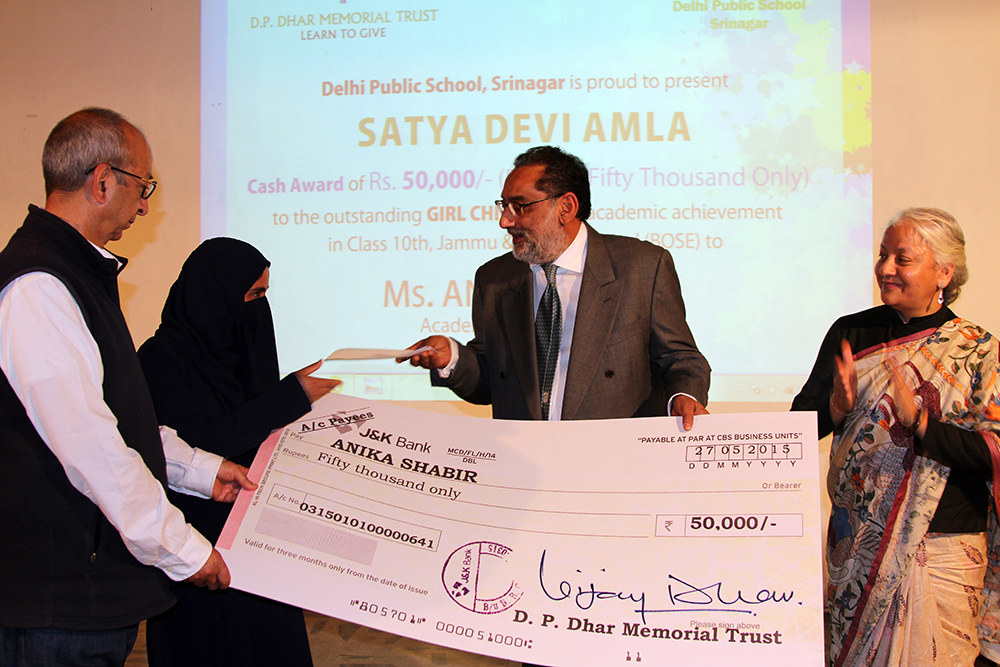 DPS Srinagar felicitates Anika Shabir (JKBOSE Class X Topper)
---
With 'women empowerment as one of its cardinal endeavors, Delhi Public School Srinagar organized a felicitation ceremony on 27th May 28, 2015 to congratulate Ms Anika Shabir for her meticulous performance in class 10th JK BOSE examinations. The ceremony started with a prayer by the school choir. Mahia Bashir of class 12D was the host for the day.
Mr Haseeb Drabu, Honourable Finance Minister J&K presided over the ceremony and conferred the 'Satya Devi Amla Award' and the cheque of  Rs. 50,000 on behalf of the DP Dhar Memorial Trust. The ambience was all inspiring and edifying. Mr Drabu addressed the problem of development in Kashmir and very aptly pointed out the need for a socio cultural 'Renaissance. Mr Drabu broke through the façade of the lies of the land and precisely emphasized on the need of exemplifying ourselves for the future generations so that our envisioned dream of a bigger better Kashmir materializes into firm reality.
The Chief guest of the occasion , Ms Anika Shabir who secured a massive 494/500 in the examination, was accompanied by her proud father, the principal and secretary of her school, Hajahad Public school Awantipora. She expressed her gratitude and gave a rabble rousing delivery , stressing on the need to be the change we want to see in the world. With a tranquil yet resolute oration, she indeed exhibit substance and depth beyond her years.
Ms Saira Raza HOD English concluded the ceremony with the Vote Of Thanks.This was yet another initiative by DPS Srinagar to keep the wheels of education progressing. We at DPS Srinagar look forward to more and more inspiring events like this one.
MEDIA COVERAGE
Greater Kashmir Dated: 28-05-2015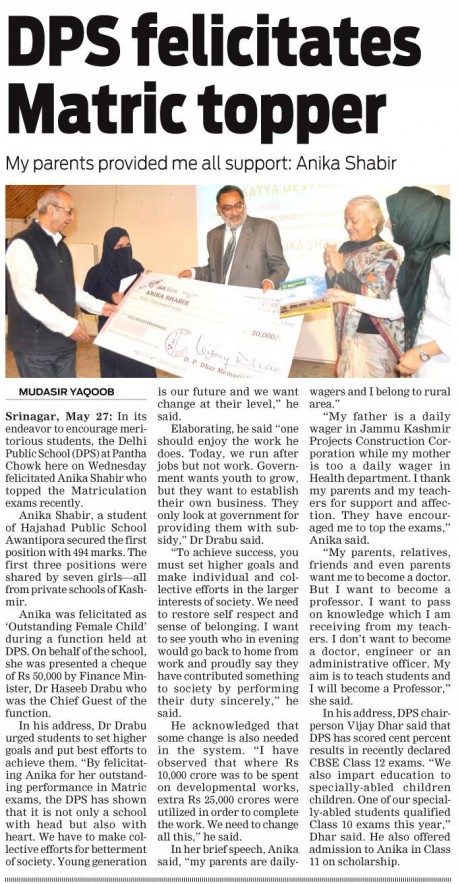 Rising Kashmir Dated: 28-05-2015