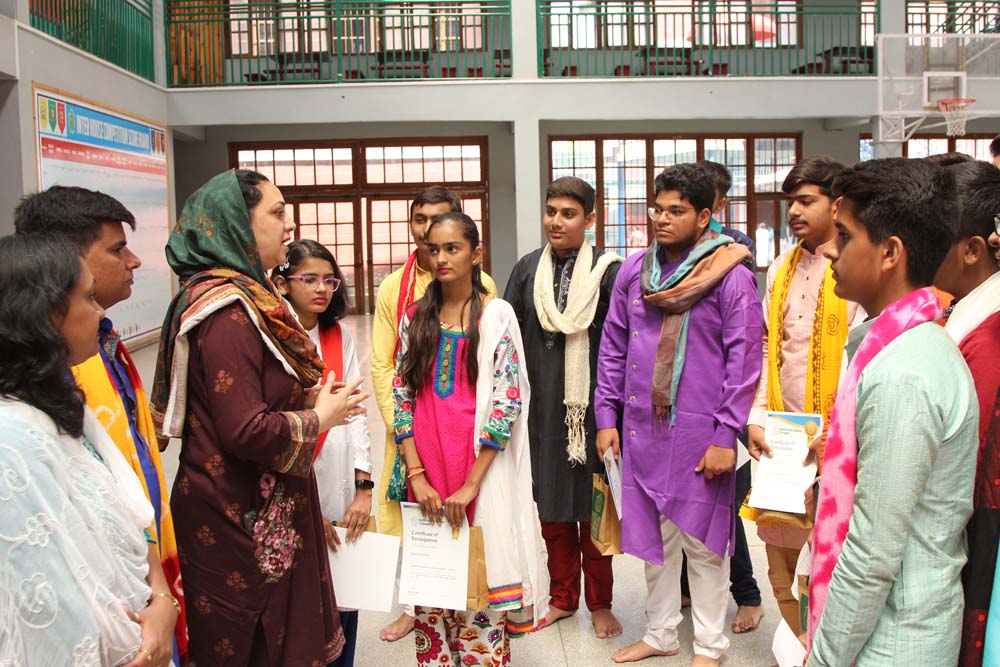 DPS Srinagar hosts a delegation from Gujarat school
---
Gujarat students leave Kashmir full of memories.
Delhi Public School, Srinagar recently hosted a delegation of 14 students and 2 teachers from Shrishti English Medium School, Anand Gujarat from June 4th, 2022 to June 11th, 2022 as a part of Domestic Class Exchange Program under the aegis of AFS India. The school is a privileged member of the program that envisions the exchange of students to facilitate cross-cultural exposure and the forging of bonds of bonhomie.
The delegation was accordingly received warmly and a detailed pedagogical plan was prepared that included guided tours to places of historical and recreational interest, artistic performances, and personalized interviews. Among other places, the delegation visited Doodhpathri, Mughal Gardens and Pahalgam to acquaint themselves not only with the geography, flora and fauna of the valley, but also assess its reputation as a bower of repute. The majestic mountains and flowing streams were quite a contrast from the plains, and so the delegation was mesmerized enough to pour their heart and soul into an open-air "Art Session" where they were trained to capture the panoramic visuals and the art of live painting and sketching. Besides, the bowers like Mughal Garden, shrines like Hazratbal Shrine, and Zeashta Devi Temple offered a useful background to explain the history of the vale, and the imprints left by history on the land.
Moreover, to complete their enriching experience the delegation was invited by a teacher- Ms. Radifa Khan, to her house. The purpose was to provide delegation an experience of local interactions, and native ways of living. The delegation was suitably delighted at the invite and was unanimous that it gave them a far more accurate insight into the lives of locals, far away from the din of news and stereotypes.
The hosted delegation also held a "Radio Session" with RJ Nasir on the in-house radio station of DPS Srinagar where they gave free vent to their opinions on the immense utility of such cultural exchanges, and the exemplary hospitality of DPS Srinagar to go out of its way to ensure that the trip was an enriching experience.
On the last day of their visit, a combined assembly was held with class XII batch and hosted students. After the assembly, the exchange students performed a "Dandiya Raas" which is a form of their folk dance. Then a valedictory session was held where these students as well as the teachers were felicitated with certificates and mementos by the Principal of DPS Srinagar. Speaking at the session, the Principal Shafaq Afshan said, "We consider it a great privilege to have been able to host students and teachers from outside the valley. Our students are sure to benefit from such cultural mingling, and draw upon their experience of hosting students of other cultures to refine their personalities." Echoing her, Chairman Vijay Dhar said, "At DPS Srinagar we are of the firm belief that pedagogy transcends academics, rather if it is divorced from culture, it will be a mere totem. So, we strive to host participant schools of the AFS Program so that our students can develop an eclectic temperament by coming in close contact with cultures other than their own."