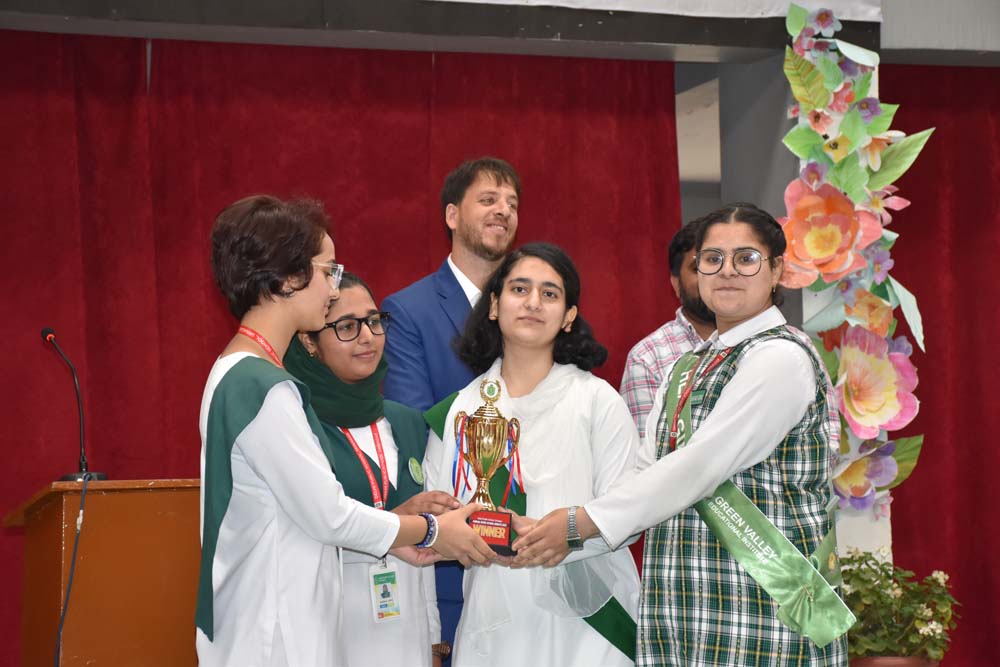 DPS Srinagar hosts Annual Inter School debate 2022
---
The Annual Inter-School Debate Competition-2022 was organized by Delhi Public School, Srinagar on September 17th. The Debate Competition witnessed the participation of 12 Schools across the Srinagar district, namely, Tyndale Biscoe School, Mallinson Girls School, Burn Hall School, Presentation Convent Hr. Sec. School, S.P. Higher Secondary School, Green Valley Educational Institute, Kashmir Harvard Educational Institute, Kendriya Vidyalaya School, Doon International School, International Delhi Public School, and K.V-1. The panel of jury for the competition included RJ Sardar Nasir Ali Khan, the renowned Radio Jockey of J&K, and Mr. Huzaifa Pandit, Assistant Professor, English, Department of Higher Education J&K, and author of the poetry book: Green is the Colour of Memory.
The Debate Competition was modeled on a holistic discussion based on the pertinent topic 'Substance abuse should be decriminalized and declared an issue of psychological health'. A diverse exchange of opinions was observed among the student participants and it helped student participants put their cognition on this contemporary socio-legal issue.
With the briefing of the set of instructions, the competition started with the debate round where each school presented 2 participants, a proposition debater, who proposed the motion & argued in favor of the motion, and an opposition debater who opposed the motion and argued against the motion.

Following the debate between the finalists, the esteemed jury shared their experiences and insights about the event reminiscing the memories of their student life. They also spoke in high volumes about the levels of awareness of the debated issues showcased by the young participants in the debate competition.
There was a tie for the winning trophy declared by the jury. The trophy was shared by DPS Srinagar and Green Valley Educational Institute, with Madiha Tariq and Nur Sadiq representing DPS Srinagar and Ayat Imtiyaz and Mehrukh Fatima representing Green valley. Maintaining the legacy and in light of their motto ' Service before Self', DPS Srinagar handed over the trophy to Green Valley Educational Institute. Ayat from Green Valley bagged the "Best speaker award" and Mallinson Girls School was declared the runner-up team.
The ceremony concluded on a great note with amazing comments and reviews from all participants and their accompanying teachers. At the end of the competition, a note of gratitude was presented to all the school principals and participants in bringing this debate competition live to the aspiration of its true essence.
Speaking on the occasion, Principal Shafaq Afshan said, "We are delighted to host the stellar group of students and witness the exchange of their ideas. It is a moment of greatest pride for us. Our joint win means the world to us." Chairman Vijay Dhar said, "At DPS Srinagar we have always been committed to the exchange of ideas, and thoughts. This debate is a testimony to our efforts. Congratulations to all stakeholders."