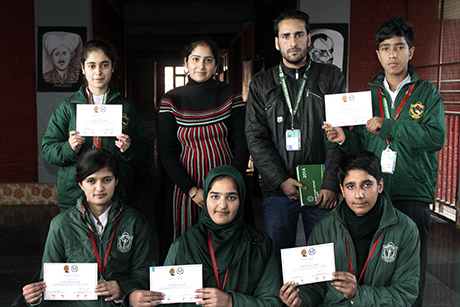 DPS students selected as National Jury Members of Children Film Festival
---
Chinh Early Education Web channel run a project across the India titled Global Media Literacy Project: four birds and one million stories. The students across India participated in it & submitted their script online. Recently Chinh India shortlisted 61 finalists in which 12 were from DPS Srinagar. The finalists were invited to American Montessori Public School at Gurgaon where they were given training on recording dialogues and producing short films. DPS Srinagar made four advertisement movies in which two movies have been selected for final competition which will be held in December. The finalist from DPS Srinagar are going to Delhi as member of national mock children jury where they have to give critical appreciation regarding their advertisement concept & they have to defend their movie as the best movie ever produced by young children.
Dipsites being creative and showing their talent in the "ADD WORLD ". Our students participated in "CHINH INDIA" organised by DABUR India Ltd. and stood third.
Our students made an ADD which was shortlisted and are now selected as National Jury Members of "Children Film Festival" which they have to attend in Delhi in coming month.
Media Coverage