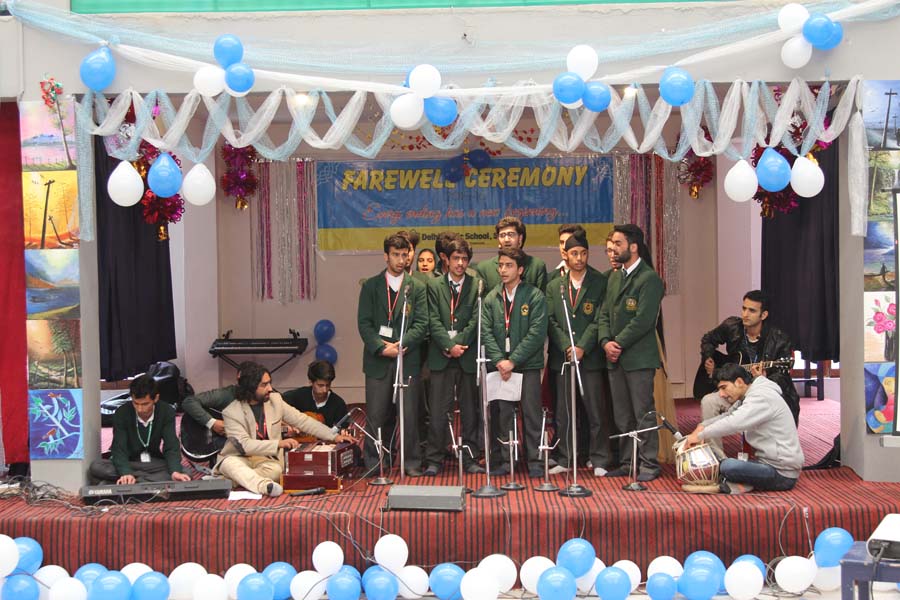 Farewell Ceremony 2016
---
"I cannot say goodbye to those whom I have grown to love, for the memories we have made will last a lifetime, and will never know a goodbye."
The Farewell was organized by the students and teachers of +2 on 9th April, 2016 in the school stadium where students of Class 12th Bid farewell to the outgoing students of class 12th with great enthusiasm!
The function began with the recitation of the school prayer. Fahad Mateen of Class 12 C gave the welcome speech.  The chairman of the school, Mr. Vijay Dhar enlightened the students with his inspirational speech.
Students of class 12th, current batch, presented very interesting skits, group dance and  Solo singing performances which entertained the audience to the fullest.  A melodious Qawali, was presented , a beautiful skit showing a contrast between college and school life. Saleem, Hannan and Dawar entertained the audience with their energy rich dance performances. The performances were thoroughly enjoyed by the audience!
Many interesting and tricky games were played to pep up the environment. A parting speech was given by Mohd Talha.
Different Titles were awarded to different students, the title of Mr and Ms Helpful was won by Fahad Nahvi and  Zuha Atta, The title of Mr and Ms Eloquent was won by Farhath Bath and Zainab Nissar. The title of Mr and Ms Pleasant was won by Irtiza and Duha Majeed. Ahmar and Ahiya were crowned with the most prestigious titles, Mr DPS and Ms DPS!
On concluding the show Ms. Saira Raza with her group sung the farewell song . Qazi Qandeel  gave the Farewell Speech!  Token of love was given to all the outgoing students.
Summing up, the day was great, filled with nostalgia and fun and excitement!