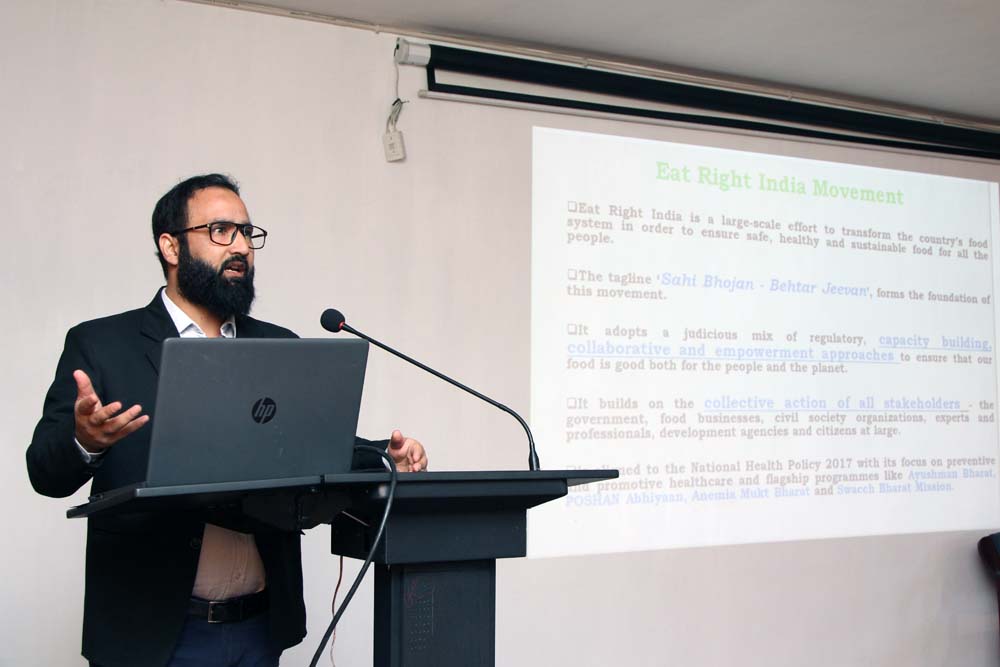 FDA, J&K hosts workshop on healthy eating habits for Schools
---
The School organized an awareness and training workshop on "Eat Right School" initiative in collaboration with Food and Drugs Administration (FDA) J&K, on Saturday, 8th April at Senior Auditorium. The workshop was attended by more than 200 teachers, Students, and canteen manager of the school.
A detailed presentation on Eat Right School Initiative of FSSAI was given by Mr. Firdous Ahmad, State Nodal Officer, Food and Drugs Administration J&K. The presentation was followed by open QA Session.
While elaborating the initiative targeted for the school children, he said that Eat Right School programme aims at creating awareness about food safety, nutrition & hygiene among school children, and through them among the community at large. Since children are powerful change agents, messages delivered to, and through children, have the potential to usher in behavioral change and a culture of safe and wholesome food he added.
On the occasion, Mr. Shabir Ahmad, Technical Officer CFDA said that since, food habits are developed early in life, adequate coverage of food and nutrition both in curriculum and extracurricular activities at the school level is essential. He also stressed on role of parenting in shaping the behavior of the children at early stages.
After the awareness Programme, a Mobile Food Testing Van was also showcased in which students enthusiastically participated. They were imparted simple Adulteration Testing Techniques by the Food Analyst, Ms. Parveena Marazi and Mr. Dilpazir.
Ms. Syed Sumaira, Coordinator International Affairs, on behalf of the DPS Srinagar thanked the team of experts for FDA, J&K, for the successful awareness programme and extended support to organize more such initiatives.
Speaking on the occasion, Principal of the School, Ms. Shafaq Afshan said, "what we eat and drink can often be linked to our state of mind, and how we feel, and this can lead to unhealthy relationships with food and drink. By organizing such awareness programmes, the school aims to raise awareness in students, parents and teachers about the importance of eating well and building good relationships with a variety of food in order to maintain good mental and physical health, and prevent eating problems in children".