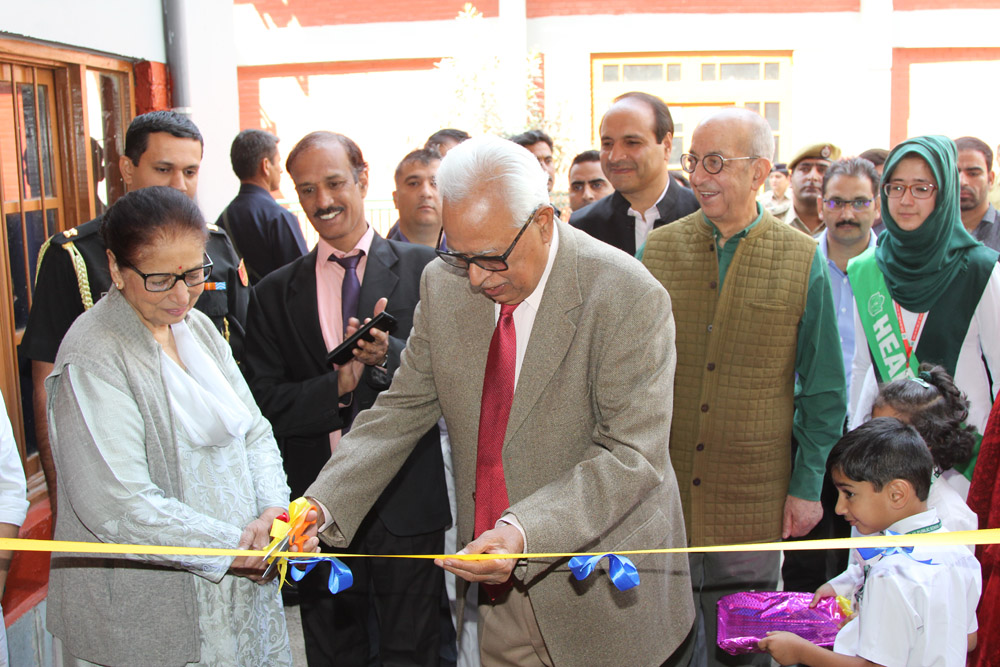 Governor inaugurates Satya Devi Resource Centre for the Visually Impaired
---
The Governor Sh NN Vohra accompanied by the first Lady Mrs. Usha Vohra paid the school a visit today to inaugurate the Satya Devi Resource Centre for the Visually Impaired. The center, first of its kind in the valley, has been established by the school with an endeavor to impart skill training to the visually impaired to aid and facilitate their rehabilitation. Accompanied by the Pro Vice Chairman Mr Vijay Dhar, Principal Balasubramanian Murli, Vice Principal Mrs Shafaq Afshan and other dignitaries, the Governor and first lady first paid a visit to the Special Education Needs Department of the school.
The Governor and first lady interacted with the students and teachers there to gauge the working of the department. They were appraised about the various rehabilitative measures practiced on students which include vocational therapy, Speech therapy, occupational therapy and physiotherapy. The visiting dignitaries were particularly impressed by the wide range and specificity of the approaches adopted. They lauded the dedication and toil of the teachers in creating a successful resource for children with special needs.
The formal inauguration of the Satya Devi resource Center followed next. The Centre is headed by Qurat ul Ain – a special needs teacher who overcame her visual impairment to acquire an education. She delivered a detailed presentation on the aims, objectives, curriculum and future plans of the center. The Governor congratulated the school for this groundbreaking initiative, and expressed hope that it will contribute towards creating a more inclusive society in the near future.
The guests also paid a visit to the recently established computer museum and Atal Tinkering Lab established by the school. The students briefed the guests about the various exhibits at the museum and provided a demo of the research being done in ATL technologies like Drone, Automatic Street Lamps, surveillance robot etc. being developed at the lab.
The governor then proceeded to the indoor stadium where he along with the first lady formally released 04 booklets of Kashmiri Folk Tales. These booklets are an attempt to revive the fast fading treasure of Kashmiri folk literature, and make it attractive once again for the budding generations. The governor also addressed a gathering of students. In his speech, he praised the efforts of DP Dhar Memorial Trust for creating a school of such an enviable standard. He also impressed upon students to strive, seek and find towards creating a prosperous future, and guard against the distractions of hostility and violence. He also interacted with and congratulated the students who have brought laurels to the school and state at various national and international academic and sporting events.