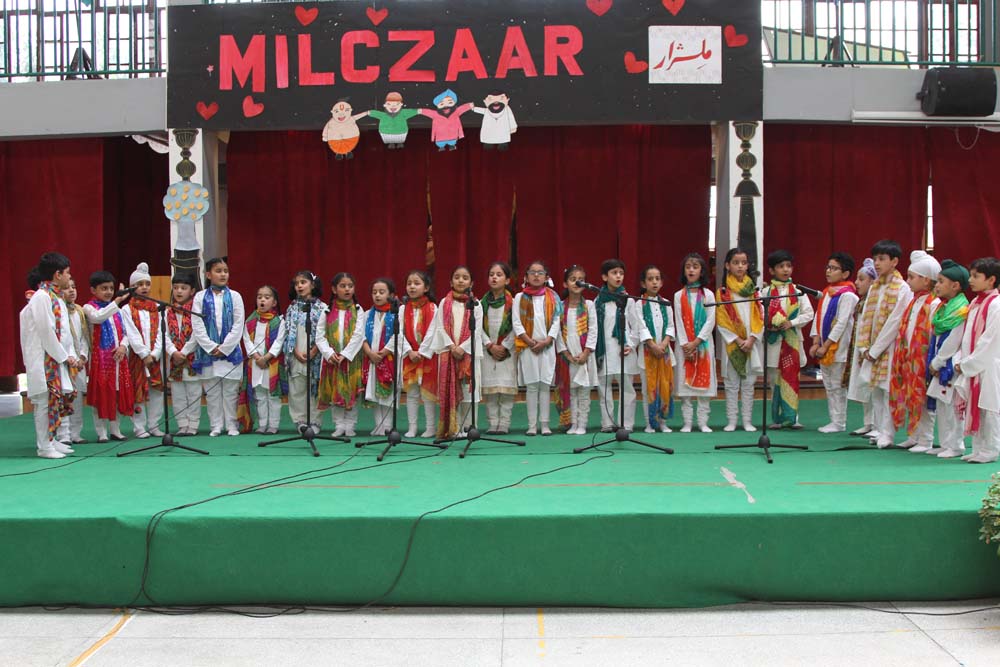 Grade 1 celebrated its Annual Day with fervor and exuberance
---
Delhi Public School, Srinagar organized its Annual Day program for the students of grade 1st. The Annual Day event took place on August 23rd at Indoor Stadium creating a vibrant and festive atmosphere for students, parents, and guests. This event marked a significant moment in the academic journey of the youngest learners and provided an opportunity for parents to witness their children's progress and talents.
The guest of honor of the event was the chairman, Mr. Vijay Dhar and was attended by academic In-charge of the junior wing Ms. Radifa Khan, other academic in-charges and the parents of students of grade 1st. The theme of this year's Annual Day was "Milczaar" or unity in diversity, which encapsulated the spirit of learning, creativity, and unity among our Grade 1 students. The heart of the celebration was the captivating cultural performances by Grade 1 students. Their enthusiastic participation showcased their talents in dance, music, and drama. These performances reflected the diverse and inclusive culture. The main aim of the event was to promote teamwork, boost confidence, and remove stage fear for the young students.
Students from all sections participated in the event and performed various activities. The program commenced with a prayer by students of 1A, followed by a welcome song that was presented by students of 1D to welcome the audience. Next, students of 1H were invited on stage to perform different songs to show the different cultural diversities. Likewise, the students of 1G sang a beautiful Kashmiri song written by a great poet Mahjoor. The students of 1E acted on a song which emphasized the importance of the Milczaar. This performance brought back the old childhood memories. Next, students of 1C performed on a song which again emphasized the importance of the theme. Afterwards, the students of 1st I performed on a song showing different cultures of different states of India. Later on, 1F performed on a song showing different festivals of India and the diversity of India. Lastly, students of 1B performed on a Hindi song and everyone enjoyed the performance.
The event concluded with a vote of thanks by the academic incharge Ms Radifa Khan, "We extend our gratitude to all parents, teachers, and guests who graced this occasion with their presence. Your support and encouragement are invaluable in the journey of our students' success" she said.
Commenting on the occasion, Chairman Mr. Vijay Dhar said, "The Annual Day for Grade 1 students and parents at DPS Srinagar was a resounding success, celebrating the achievements and growth of our young learners. This event showcased the school's commitment to providing a well-rounded education that fosters not only academic excellence but also the development of character, values, and talents. We look forward to continuing this tradition of excellence in education and holistic development at Delhi Public School Srinagar."