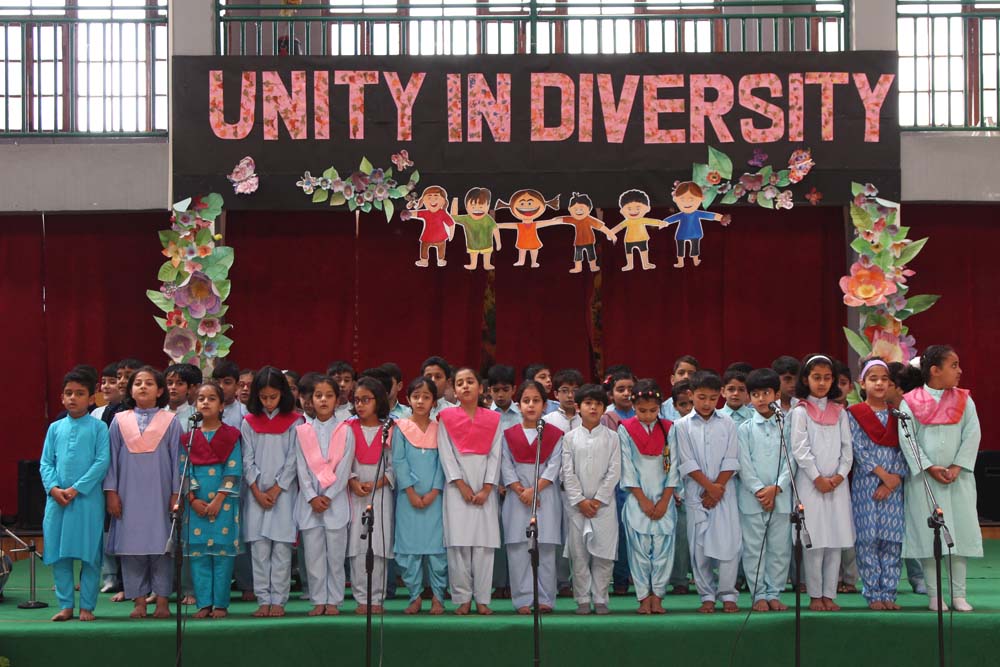 Grade II celebrates Annual Day
---
Annual Day is a yearly celebration that takes place in schools. It plays a major role in the personality development of children. It helps the students to build up their confidence and overcome the fear of stage or expressing their views'.
On 14th September 2022, Delhi Public School organized its annual day program for the students of grade 2. The chosen theme was "Unity In Diversity". Our students presented a slice of every corner of the country. The program was held in the indoor stadium. The event was attended by the Principal Ms. Shafaq Afshan, Academic Incharge (Junior Wing) Ms Radifa Nazir and other academic incharges. The chief guest of the event was Ms Shameema Akhter, one of the versatile singer and parents of the students were also invited to attend the event.
The program started with the prayer by students of 2D, followed by a welcome song that was presented by students of 2C to welcome the chief guest and parents of the students.
The students from different classes participated and performed various activities. The theme of the event 'Unity in Diversity' was well represented by the students through dance , singing, and varied other items. An array of performances that included songs, dance and other performances which were beautifully presented and entertained by the audience.
Next a group of students of 2H was invited to come on stage and exhibit different styles of dressing. Through this act the audience came to know about the traditional clothing in India , After this, students of 2E performed a beautiful group dance program.
Another heart touching Urdu song 'Ek hai Allah, Ek hai Eswar' fascinated every one present there. The song was sung by students of 2F and emphasized on the importance of unity in diversity.
A delightful act was performed by the students of 2A on the song 'mileh sur mera tumhara' which again emphasized on integration.
The students of 2B gave audience a glimpse of festivals like Lohri, Baisakhi, Holi and other festivals celebrated in India. The students gave their best, they were very happy to see their parents as an audience.
Later on, 2I boys performed a bhangra dance. They had beautiful costumes with feathered headgear while 2G girls displayed garba dance. In the end, the host requested the chief guest to express her thoughts regarding the event and also sing for the audience.
At last principal ma'am delivered vote of thanks and also appreciated the efforts of students as well as teachers for making this event worth outstanding and the program successfully got over.