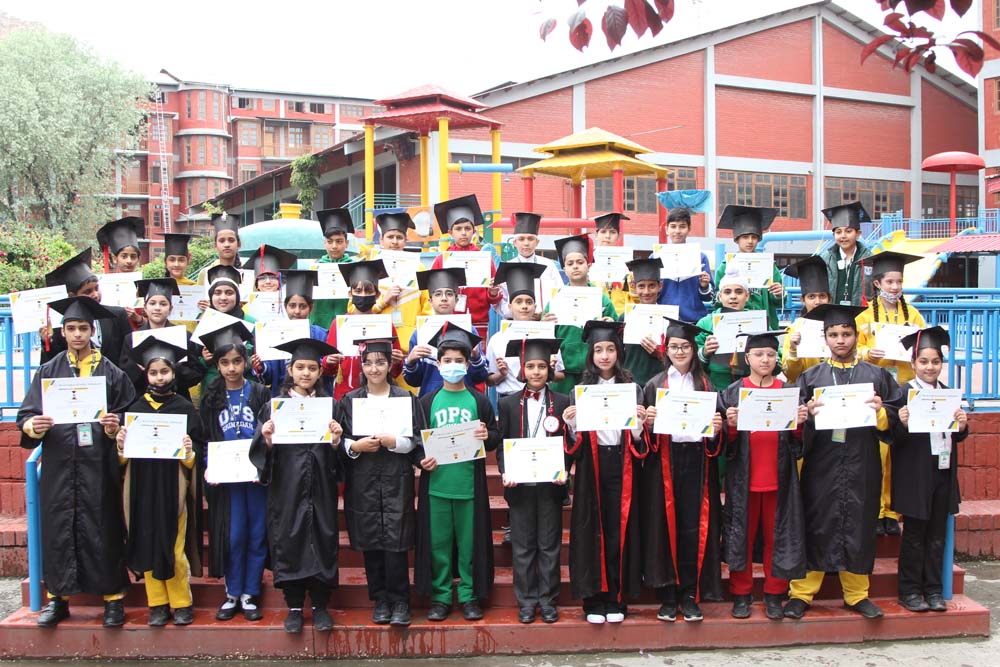 Grade VI Students Celebrate Graduation Day with Enthusiasm and Optimism
---
"The beautiful thing about learning is that no one can take it away from you." —B.B. King
The Graduation Day is a significant milestone that marks the culmination of the hard work and dedication put in by students towards a better future, and the efforts of teachers in guiding and mentoring them to achieve success. The anticipation and excitement of this day are unmatched as it not only signifies the end of one phase but also the beginning of a new journey. On 23 April 2023, the staff and students of Class VI celebrated their Graduation Ceremony with great enthusiasm and optimism.
The ceremony commenced with the soulful rendition of the school prayer "Lab Pe Aati haii dua" by the teachers and students of the Pre-middle wing. This set the tone for the event, and the felicitation of the students with the Graduation Certificates followed. The students cheered and shouted slogans, creating an unparalleled atmosphere in the classrooms. It was overwhelming to see how aware the students were about the whole concept of graduation and how excited they were to shoulder the responsibility that came with it.
Ms Sunanda Dhar and Ms Monisa Khursheed addressed the students, congratulating them on their graduation and applauding their efforts. The students were all smiles as they posed for group photos in their graduation caps, capturing memories to cherish for years to come. Classroom programmers were organized in all sections, with active participation by all, adding to the celebratory mood.
As the students move forward in the pursuit of their dreams, the staff wishes them well at each step of their journey. With happy memories, they send them good wishes with great hopes and expectations for a bright future ahead. The Graduation Day may signify the end of one phase, but it is also a new beginning, and the staff and students of Class VI are ready to take on whatever challenges come their way.