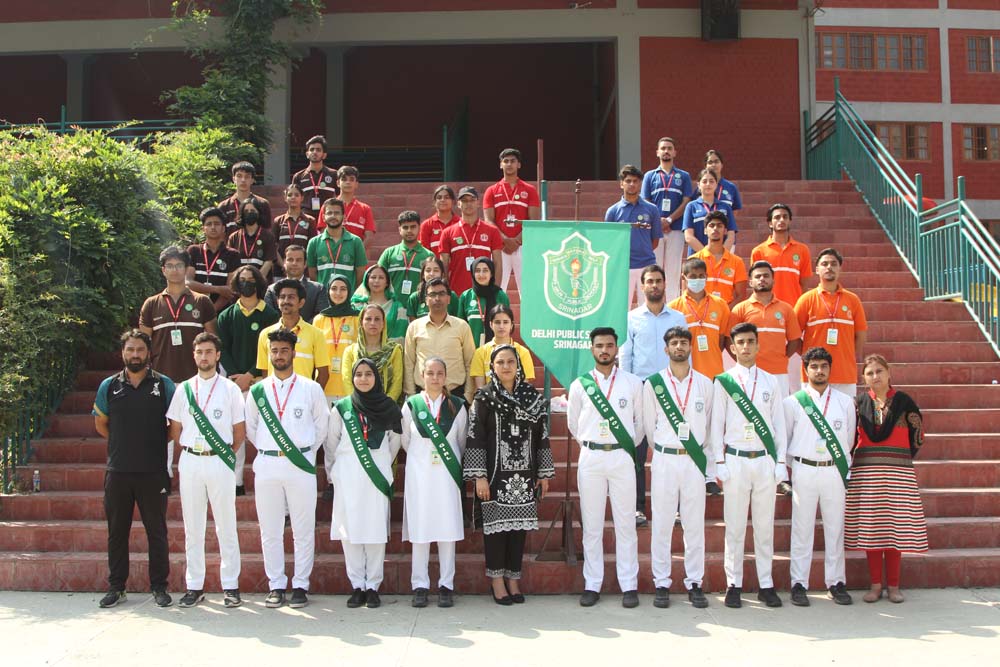 Investiture ceremony of the student council 2022-23
---
The school witnessed the investiture ceremony after three exasperating years. The ceremony was started in high spirits with the school prayer, led by the music faculty of the school. The stage was set to invest the newly elected nominees and formally declare them as members of the Student Council. The anchors did an excellent job, and the whole school was mesmerized by their fluency and modulation. The school prayer was followed by a march-past of house wardens leading their respective houses and carrying their house banners. The whole Prefect Council was marching in absolute synchronization which reflected the discipline of Delhi Public School, Srinagar. Their footsteps matched that of a heartbeat: simultaneous and periodically perfect. The Prefect Council was followed by the Main Student council, all dressed in white with gloves and march-pasting in strict synonymity. They were welcomed with applause's from all over. When the march-past was over, The Principal, Ms Shafaq Afshan initiated the investiture by giving an enthralling speech, the main student council was convened on the stage one by one and invested in their respective duties by The Principal.
The student elects took oaths and vowed to work for the betterment and uplift ment of Dip sites and teachers alike, to put others first, and emphasized working for the motto "Service Before Self". After the oath ceremony concluded, Ms Arusa Rasool, our treasured In charge, gave some words of wisdom which were well received by all. To top it off our Head Boy elect and Head girl elect gave their respective speeches and shared the journey they cherished in their time spent in school. The audience seemed happy and content at finding such exemplary and excellent leaders setting the bar for future generations of dip sites and showing their prowess and determination to lead the way.
The ceremony was concluded on a very positive note and in high spirits and was followed by a photo session of the elects and the house masters and mistresses.