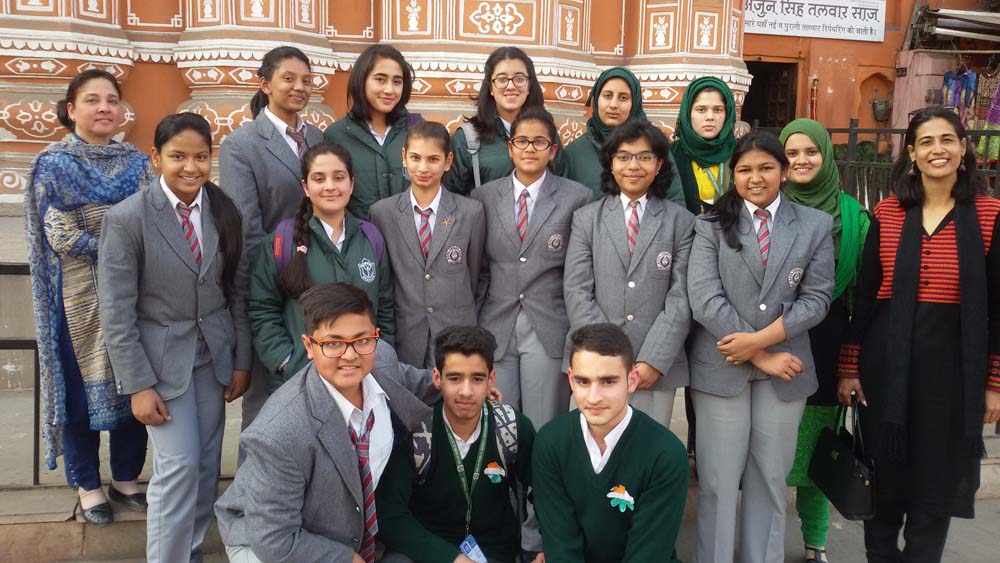 Jaipur Cultural Exchange Programme
---
Our school team comprising of 7 students and two teachers, Mr Mohammad Saleem Dar and Ms Poonam Wazir went to Jaipur on 24th January, 2016, for a week long programme under the Student Exchange Programme. It was a collaborative initiative taken by Delhi Public School, Srinagar and Maharaja Swai Mann Singh School, Jaipur. The exchange programme to "Pink City" i.e., Jaipur widened our horizons in terms of knowledge and also helped us to promote brotherhood, harmony and to know each other's culture. Being diverse there was still a feeling of oneness.
The whole programme was coordinated by Vinita Ma'am of MSMS school.
Rashi Ma'am (MSMS School) our programme coordinator really had been a wonderful host, an excellent organizer, a good team leader in executing the programme with a great success. Always beaming with positive energy did not leave any stone unturned to provide the best and took utmost care in making our team comfortable and feel homely.
The date-wise programme and event details are as follows:
25th January, 2016
There was a special welcome assembly organized by the host school. It was very warm and cordial welcome. Our children were introduced to the buddies who would remain with the DPS students for the coming days.
Then our students were taken to music room where they gave students time to practice a small cultural programme, to be presented on 26th January. Our team prepared a Kashmiri folk dance (Rouf) and a speech.
On the same day our students also had an opportunity to witness celebrations of 26th January by students of "Baal Vatika". They presented a very colourful programme. In the afternoon lunch was arranged by the host school, after which there was a sightseeing programme to different places like Moti Dungri, Ganesh Mandir, shopping at Jaipur Bazar, Hawa Mahal, Amer Fort and in the late evening "Light and Sound" show at Amer Fort. It holds the history of Citadel, pulsating with the legendry past of 600 years and 28 Kings of the Kachhwaha dynasty, before their capital moved to Jaipur.
26th January, 2016
Students reached host school in the morning to witness the grand celebrations of Republic Day. The programme included march past by school houses, NCC cadets, flag hoisting, speeches and patriotic songs. Our school students also participated in the function. A Kashmiri folk dance by girls was presented and a speech by Anum Shakeel was given on this occasion. Mrs. Krishna Bhatti, Principal of the host school, addressed the gathering and presented gifts to DPS students and teachers.
In the evening students visited Jawahar Kala Kendra which is an art and crafts centre located in the city of Jaipur; built in the year 1986. Launched by the state govt. to provide space to the cultural and spiritual values of India and display the rich craft heritage.
Students also visited World Trade Park, the largest shopping Mall in Jaipur. Visit to Chokhi Dhani was very exciting. It is a concept capturing the vibrant spirit of Rajasthan and ensuring a perfect Rajasthani experience.
27th January, 2016
Our students attended the regular classes of host school. Language classes like French, Hindi, and Sanskrit were taken by them and we also had the privilege of attending smart classes of science. Lunch was served in the school canteen and evening show was movie Airlift at Raj Mandir. It is a famous movie theatre and has become a popular symbol of Jaipur, often referred as the Pride of Asia.
28th January, 2016
Our students visited Ajmer Dargah and Tillonia Village, on the way.
Hazrat Khwaja Moin-u-din Chisty Dargah of sufi saint at Ajmer has several tombs, buildings, Daalans and courtyards of Mughal architecture.
29th January, 2016
After attending to their assembly, our students visited village school which is a community school, looked after by Maharaja Swai Mann Singh School. This village school has been adopted by host school. Our school Principal Ms. Kusum Warikoo had send a momento for the village school principal, which was handed over to him.