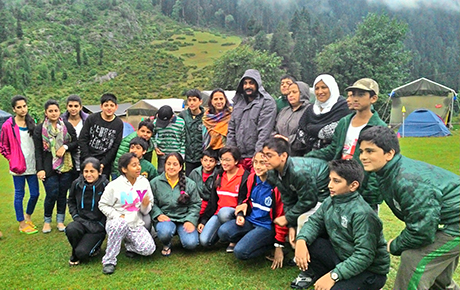 Jungle Camp
---
Delhi Public School, Srinagar organised its first jungle camp for VI- VIII which was held from 21st August to 23rd August at Aru, Pahalgam, in which 60 students and seven staff members participated. The camp started its journey at 7o'clock in the morning from school premises. The students were enthusiastic about the camp and were shouting in joy what will happen in coming three days.
We reached the base camp at around 10.30am. The students were provided with breakfast and then were briefed and instructed about the rules and regulations being followed by them in the coming days. Then the students were asked to settle their belongings in the tents and after lunch was provided and were asked to take some rest.
It was around 3o'clock when trekking started from base camp to Green Top Aru. It was the first experience and the adventures for the students as well as for the staff members. Later in the evening cultural programme was organised.
The next day was started with the morning assembly at 7am and after the completion of the assembly students were taken for morning walk and then were provided with breakfast. After the completion of breakfast the students were taken for trekking to lidderwath. Through dense forest which was thrilling, adventures. While travelling the jungles students learn how to walk and climb through jungles and steep, slippery slopes. It was really a tremendous experience ever faced by any students. In the evening camp fire was organised in which students were over enthusiastic and expressed their feeling by singing and dancing around the fire.
The last day of the camp was usually started morning assembly followed by morning walk and then breakfast. Later the students were taken for horse riding. Then the students were asked to pack their belongings and camp was called off.
The students boarded the buses and forwarded towards the Pahalgam.While in Pahalgam students were taken to the Zoo where they spotted some endangered animals like deer,bear,leopard ,etc
After the completion of lunch at Pahalgam. The camp headed towards the school with great experience and with a hope that the same type of camps will be organised in the near future.
Invalid Displayed Gallery