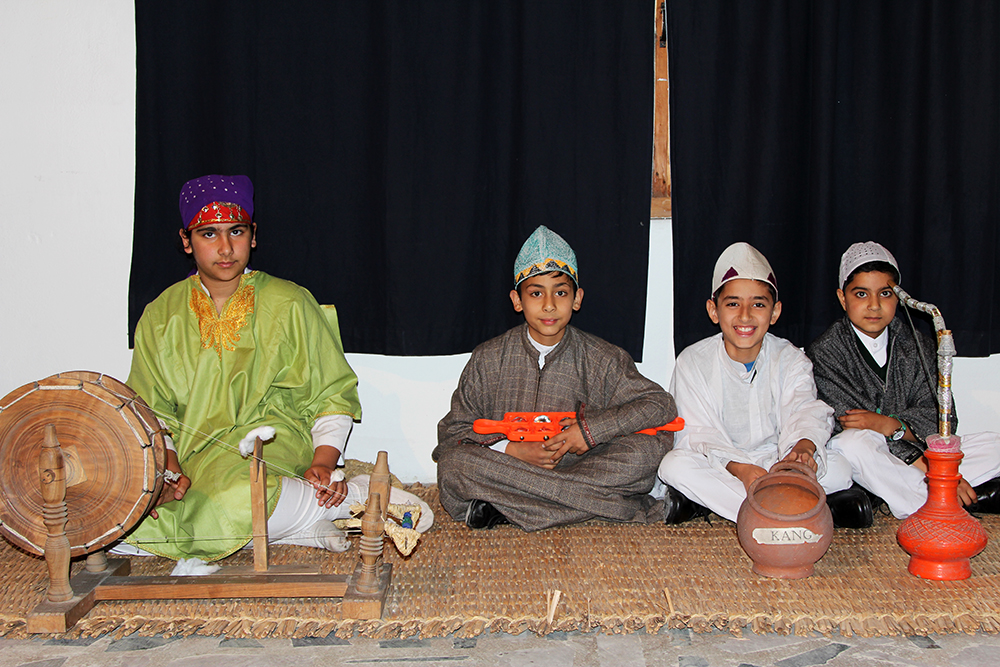 Kashmiri Mehfil
---
Kashmiri Day celebrated at DPS Srinagar on 12th May
Daryaav (Poem by Abdul Ahad Azad)
Chalan chum shar hubaban

Iztaraban walawalan ander

Yewan chum zindagi hund soz

Safran manzilan ander
Awareness programme of Kashmiri language was organized by Adbi Markaz Kamraz. Some Kashmiri Scholars; Dr. Aziz Hajini, Mr. Shujaat Bukhari, Ms. Naseem Shifayee, Ateeqa Banu graced the event by their presence.
Programme started at 11 a.m with the welcome speech by Abreena from  class 8th  which was followed by Abdul  Azad's Poem 'Daryaw' presented in the form of  a song by our little buds of primary classes. Then a group of students from class  5th  namely Nauman,Maumin and Ziya  performed Laddi Shah which was highly appreciated by our esteemed guests.
Among the guests Mr. Aziz Hajni spoke about the importance of our mother tongue and the same was reiterated by Mr. Shujaat Bukhari. Thereafter, Ms. Naseem Shifayee shared her thoughts on the topic  'Maji zeyav te Nav puyi'  cited real life examples and talked about the glorious past of Kashmir which turned out to be  very interesting for the students, at the end students were asked to pose questions regarding the role of parents in promoting the mother tongue  in the present generation. They came up with beautiful questions and were given satisfactory answers by our esteemed guests. Then the Pro-vice chairman Mr. Vijay Dhar shared his thoughts with the students in Kashmiri encouraging them to preserve our mother tongue.
Beautiful nazam was recited by MS. Naseem Shifayee at the end and Mehfil was concluded by the vote of thanks by Arbeena.
Invalid Displayed Gallery