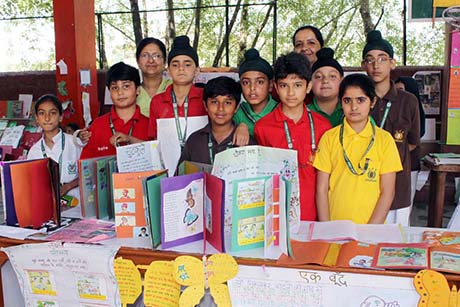 Language Exhibition
---
Language is the blood of the soul into which thoughts run and out of which they grow .Language   shapes the way we think and determines what we can think about. It is the most powerful means of communication and an integral part of being human.
D.P.S has always tried to arouse creativity among its young learners through various scholastic and co-scholastic activities .It always takes the initiative to provide a platform to students so that they can exhibit their creative talents in various fields.
In this regard on 5th June 2014 the school organized a language exhibition for four languages taught in the  school ( i.e. English, Urdu, Kashmiri and Hindi) , wherein students of 3rd to 5th exhibited their creative skills in form of creating  beautiful magazines, Haiku poems, Book covers ,newspapers, stories  ,jokes . They had been working for the exhibition since April, 2014 along with the concerned teachers i.e-English faculty-Ms Saika, Ms Nazia, Ms Nasreen ,Ms Haviya, Ms Shabiya, Ms Rukhsana. Hindi faculty-Ms Shaheen, Ms Gurmeet, Ms Nitika. Urdu faculty-Ms Masarat, Ms Ruhi,  Mr Sartaj, Ms Soleha, Ms Sameena. Kashmiri faculty-Ms Shazia, Ms Hanifa and all their efforts were displayed in the school's- Amphi-theatre. The children were highly appreciated by the chief guests of the event i.e Mr Vijay Dhar, Mrs Kiran Dhar and the school principal, Mrs Kusam Warikoo. They were impressed by the hard work put in by the students. The main attraction of the event were the puppet show, English Poems sung by students, Ladisha , (i.e kashmiri satire), collage making etc.
Invalid Displayed Gallery