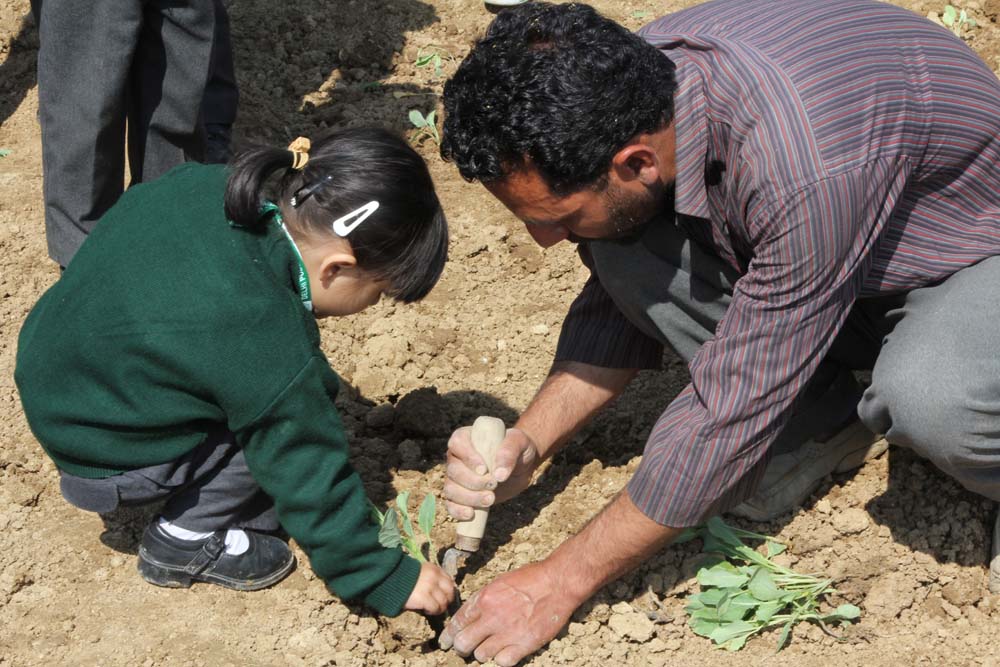 Little Green Fingers Day Out at a Farm –Class LKG, UKG, 1 and 2 Students Sapling Plantation Drive
---
As they say "Take a quiet walk with Mother nature and it will nurture your mind, body and soul." The school plantation day event organised on 29th and 30th of March 2016 for  the Junior Wing forms the backbone to help connect students to the benefits of trees and foster environmental stewardship in their minds. The involvement of children in this event stimulates their interest in the environment and through community involvement strengthens the belief that they too can make a difference.
Our toddlers did exactly that today, when they were taken to a nearby farm for observing the plantation day which is celebrated on the 21st of March every year and our student's took part in the same with great enthusiasm and zest.
This plantation day aims to mark the beginning of a long term environmental program, engaging our students in a fun, hands on activity that can reinforce their environmental, math, science, and creative arts learning or simply contribute to creating beautiful school grounds and spread the message of afforestation.
This was our first Plantation Day (even called Van-Mahotsav in Hindi) event outside the school premises on a farm. All the students were enthusiastic and thoroughly enjoyed the planting process, even when some of them got all muddy and wet – they loved it. We are happy to include parents who volunteered for this activity, and who were all praises for the event. The students planted various types of plants some of them being saag, green chili, cabbage, cauliflower, tomatoes etc. The teachers had briefed the students about the saplings they were going to plant and the importance of tree plantation.
The help staff at the farm also taught them how to plant seeds and some students also watered the plants. Garden staff also told the students about different plants, their uses, etc. Students got excited on seeing the cows and calves as well as goats and kids. Some even desired to touch the calves and kids  and did so with twinkle in their eyes while some shied away.  After the planting event we told the students that we would  visit the farm again to monitor how big their plants had grown. With the help of this event the students also became aware about pollution and its causes, the importance of plants and caring more about the environment and the fact that they provide us with fresh air to breathe.
We would like to thank all volunteer parents for their support in making this program a grand sucess.
LIST OF PARENTS WHO VISITED THE FARM HOUSE
Hurain Nasir
LKG F : Parent Mudasir Ara
Haziq Mohammad Khan
LKG G : Parent
Raja Shabir
Ayra Raafi
LKG C : Parent
Aleeza Umer
LKG H : Parent
Soliya Umer
Ali Yawar
LKG G: parent
Ozama Massoodi
Adeena Sayed
UKG C : Parent
Shagufta
Ehaan Suhail
UKG F : Parent
DR Shazia
ABDUL MUQSIT QADRI
1st B : Parent
Rooh Un nisa
Ahmad Jibreel Qadri
1st B : Parent
Fouzia Qadri
Alina Farooq
1st D : Parent
Sidhant Olhan
1st C : Parent
Shruti
Abdul Hadi Bhat
2nd H : Parent
Mohammed Raed-Ul-Islam Reshi
2nd H : Parent
Shigufta Reshi
Arsalan
2nd D : Parent
Saheela Galib
Day 01
Day 02
Feedback