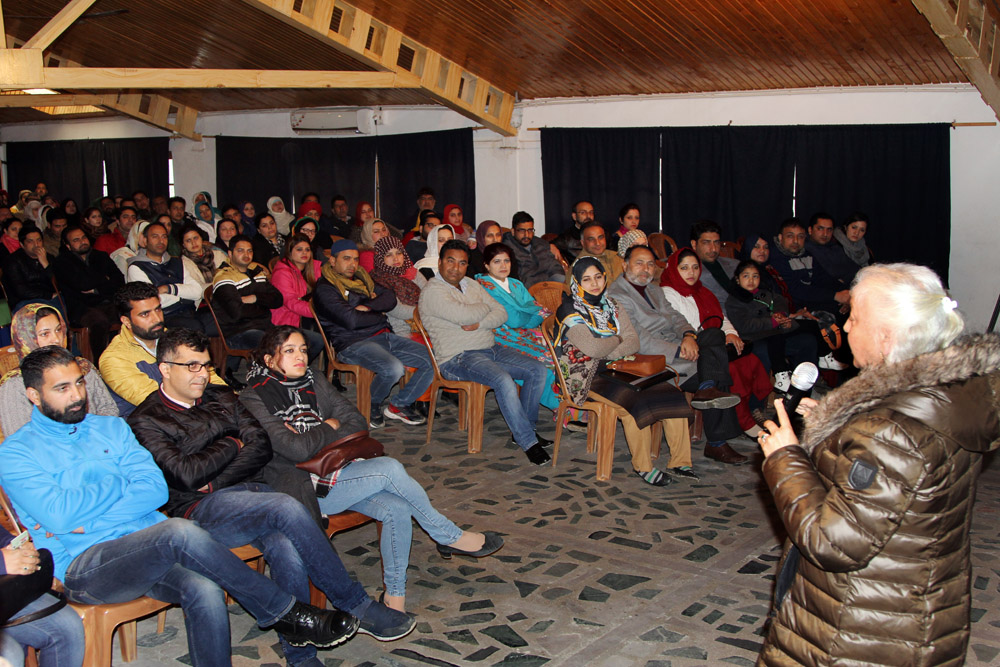 LKG – Orientation Programme (2017-2018)
---
"Arise, Awake and Stop not till the Goal is reached."-Swami Vivekananda
The academic year 2017-2018 is laden with newer avenues to explore and abundant goals to achieve. Department of Tiny Tots, of our school conducted an orientation programme for the new parent fraternity on Saturday, 11th March, with a hope to make the beginning of the new session an exciting, successful and happy experience.
The Orientation Programme for the parents of Grade L.K.G. began with a warm welcome address by the academic incharge, Ms. Fozia. She enlightened the audience with her words of wisdom and elaborated the spirit of school which is to prepare our children to meet global challenges while ensuring that they preserve the culture and heritage of Kashmir. A few helpful suggestions and advices on effective parenting were shared by her in order to reduce the anxiety of parents and make them comfortable.
The programme was followed by a report to make the parents aware about the school system and its achievements. Ms. Fozia spoke to the parents about the efforts that teachers in the department are putting in for the kids so as to improve and facilitate the learning process. She made the parents aware about the 'child centric' approach of learning that the school is following and highlighted the importance of 'Learning by Doing'. She also mentioned about the benefits of the shift from the traditional examination practices to the effective pedagogy, thus leading to the holistic development of every child.
The concerned incharge provided the necessary information and instructions about arrival and dismissal, buses, snacks, lunch, volunteering opportunities, classroom schedules and special activities. The parents were quite inquisitive and eager and were seated in rapt attention throughout the session.
The presentation was further elaborated by imparting precise knowledge about the availability of the resources at "Special Education Needs Department" in the campus by the school psychologist, Ms. Munazah Bhat. The session highlighted the need of identification of the special needs of children. She discussed the learning disabilities among children and the strategies to cope with them.
It was followed by a warm and interactive session with Ms. Kusam Warikoo, our honourable principal. She galdly and readily answered all the queries of the eager parents. The session proved to be a productive platform for discussing various strategies essential for the growth of a child.
The orientation programme concluded with a 'vote of thanks' presented by the Tiny Tots Academic Incharge, Ms. Radifa Nazir, with a spirit of robust bonding between the school and the parents; in order to enable a most harmonious and beneficial learning process.